Leap Forward in Seismic Imaging Worth Billions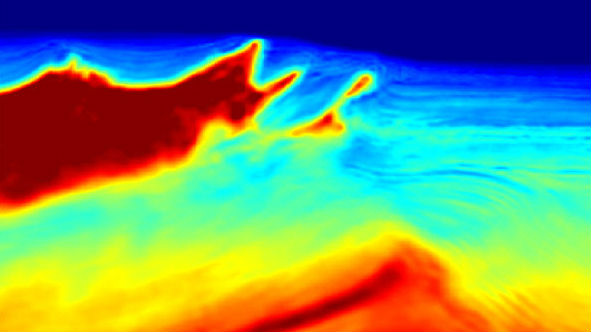 BP has made a breakthrough in seismic imaging that has resulting in the company identifying more than 200 million barrels of additional resources at its Atlantis field in the deepwater Gulf of Mexico.
The new resource, worth around $2 billion, is in an undrilled section of the field in 7,000 feet of water 150 miles from New Orleans.
The innovation has enabled BP to enhance the clarity of images that it collects during seismic surveys, particularly areas below the earth's surface that complex salt structures previously obscured or distorted. The sharper seismic images enabled BP to find the resource under a salt dome, and going forward, the technology means that BP can drill new development wells in deepwater reservoirs with higher confidence and accuracy.
Proprietary algorithms developed by BP's Subsurface Technical Center were applied on seismic data run at BP's Center for High Performance Computing, one of the largest supercomputers in the world dedicated to commercial research. The Center is located in Houston and opened in 2013. It has a processing power of 3.8 petaflops, which is almost 4,000 trillion calculations per second.
The algorithms allowed data that would normally take a year to be analyzed to be processed in only a few weeks, accelerating BP's development decisions for the field.
The algorithms were initially developed by a BP scientist fresh out of out of graduate school, Xukai Shen. They enhance a technique known as Full Waveform Inversion (FWI), which matches seismic simulations with existing seismic data to produce high quality subsurface images.
BP now is deploying the technique to fields elsewhere in the Gulf of Mexico as well as in Azerbaijan, Angola, and Trinidad and Tobago.
The technique follows other innovations developed by BP. The company invented and was the first company to deploy wide-azimuth towed-streamer (WATS) technology to better illuminate and image below complex structures like salt. WATS captures data from many angles ('azimuths') to effectively bypass huge salt canopies above oil and gas reservoirs.
Over the past 10 years, BP has invested $90 billion in the U.S. – more than any other energy company. BP produces enough energy annually to light nearly the entire country for a year.