Land Area of Low-Lying Tuvalu has Increased
The tiny Pacific island nation of Tuvalu, thought to be under threat from sea level rise, has actually expanded in land area over the past 40 years and is likely to continue to be habitable a century from now, scientists say.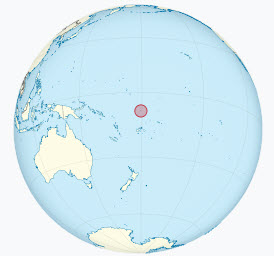 New research from the University of Auckland published in Nature Communications mapped shoreline change of each of Tuvalu's 101 islands across its nine atolls over a 40-year period.
11 of the country's islands have a permanent human population, two have a population of more than 600.
The research team, including Professor Paul Kench, Dr Murray Ford and Dr Susan Owen from the School of Environment, used aerial photos going as far back as 1943, and photo collections from 1971 and 1984 with updated satellite imagery from 2004-2014, to compare how the shoreline of each atoll changed between 1971 and 2014.
Mapping of island size and position shows that Tuvalu has experienced a net increase in land area of 2.9 percent or 73.5ha. Overall 74 percent of islands in the group – a total of 73 – are larger now than 40 years ago.
Yet sea level rise in the region has been happening at twice the global average over the past 40 years.
"We tend to think of Pacific atolls as static landforms that will simply be inundated as sea levels rise but there is growing evidence these islands are geologically dynamic and are constantly changing," says Kench.
"The study findings may seem counter-intuitive given that sea level has been rising in the region over the past half century, but the dominant mode of change over that time on Tuvalu has been expansion, not erosion."
Kench says sea level is just one factor that can influence island change. A range of environmental processes have contributed to that pattern including sediment supply and wave patterns. Those processes, particularly during extreme events such as Cyclone Bebe in 1972, could account for the expansion of larger mixed sand-gravel islands and gravel islands, while smaller islands which are predominantly sand are more likely to have been destabilized, he said.
"On the basis of this research we project a markedly different trajectory for Tuvalu's islands over the next century, and while we recognize that habitability rests on a number of factors, loss of land is unlikely to be a factor in forcing depopulation of Tuvalu."
Historic patterns of human settlement based on legacies of economic and social investment may not be well aligned with the physical changes occurring in the islands, says Kench. Rather than simple re-location or migration, new adaptations could be considered that involve the community in decision-making on issues of planning, development goals and land tenure systems that take into account the dynamic nature of islands.