Update: Labor Secretary Intervening in Port Dispute
U.S. Labor Secretary Tom Perez will travel to California to help broker an agreement between shipping companies and dockworkers in a dispute that has led to a partial shutdown of ports along the U.S. West Coast, the White House said on Saturday.
The move by the Obama administration came after shipping companies vowed to prevent the loading and unloading of freight through Monday from container ships at the 29 ports, barring a settlement in talks with the dockworkers' union.
The shipping companies said they were unwilling to pay union workers higher wages for weekend shifts and the Presidents Day holiday on Monday while productivity declines and cargo backups reach the point of near gridlock, after months of chronic congestion in freight traffic.
The impact of the dispute has rippled through the U.S. commercial supply chain, slowing deliveries of a wide range of goods, from agricultural produce to housewares and apparel.
"The negotiations over the functioning of the West Coast ports have been taking place for months with the administration urging the parties to resolve their differences," White House spokesman Eric Schultz said.
"Out of concern for the economic consequences of further delay, the president has directed his Secretary of Labor Tom Perez to travel to California to meet with the parties to urge them to resolve their dispute quickly at the bargaining table."
Perez has been in contact with the parties and will keep the president updated, he said.
On Friday, negotiators for the union representing 20,000 dockworkers at the ports and management's bargaining agent, the Pacific Maritime Association, agreed to a federal mediator's request for a 48-hour news blackout. The two sides held a bargaining session on Thursday that marked their first face-to-face meeting in nearly a week.
The association has said the talks hit a new snag over a demand by the International Longshore and Warehouse Union for changes in the system of binding arbitration in contract disputes.
Retailers had long pressed President Barack Obama to intervene in the dispute. In a statement, a National Retail Federation official welcomed the White House announcement.
"The slowdowns, congestion and suspensions at the West Coast ports need to end now," said the statement from Jonathan Gold, the federation's vice president for supply chain.
By Saturday morning, 32 freighters were waiting to dock at the ports of Los Angeles and Long Beach, California, which are the nation's two busiest cargo hubs, said Lee Peterson, a spokesman for the port of Long Beach.
Shipping companies first suspended vessel operations at the ports for two days last weekend and again on Thursday, a union holiday. Port operations resumed in full for one eight-hour shift on Friday before the loading and unloading of container ships was halted again.
The West Coast ports were not left entirely dormant. The companies said work continues in the dockyards, rail yards and terminal gates as they seek to clear some of the cargo containers already stacked up on the waterfronts.
Strike pushes up freight rates
The strike is pushing up shipping freight rates as delays in offloading and taking on new cargo mean container ships are unavailable for new orders.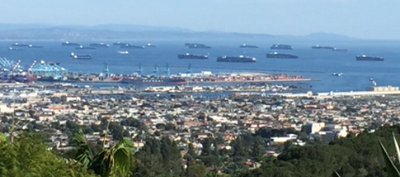 Dozens of container ships are lying in wait off the large U.S. West Coast ports of Los Angeles, San Francisco and San Diego. Many of them have been waiting more than a week to enter port to unload or take on new cargoes, according to Thomson Reuters shipping data.
"The strike is affecting a lot of vessels. There's a lot of delays and this is pushing up panamax (container) rates as fewer ships are available for new orders," a leading Singapore-based broker said.
The Shanghai Containerized Freight Index for U.S. West Coast (USWC) rates rose 23 points last week to 2,265 and brokers said quotes had risen a further five points on Monday.
USWC, together with European port rates, have the heaviest weighting in the overall Shanghai index, with a weighting of 20 percent each.
Honda to slow U.S. output
Japanese carmaker Honda Motor Co Ltd plans to slow production at some of its plants in North America due to a parts shortage caused by the partial shutdown of ports.
The company expects shortages at its operations in Ohio, Indiana and Ontario, Canada, starting Monday and for each plant to adjust its production between Feb. 16 and Feb. 23, spokesman Mark Morrison told Reuters by email.
"We do not have a sufficient supply of several critical parts to keep the production lines running smoothly and efficiently. These parts include a small number of critical parts such as electronics, and some larger assemblies such as transmissions," Morrison said.
Honda plants expected to slow production of models including the Civic, CR-V, Accord and Acura, Morrison said.
It and other car makers have already been transporting some crucial parts from Asia to U.S. factories by airplane due to the disruption caused by the labor dispute.
Toyota Motor Corp, which built about 2 million vehicles in North America last year, has reduced overtime at some factories in North America, said spokesman Mike Goss.
Nissan Motor Co Ltd said it has been somewhat affected by the West Coast slowdown.
"However, since about 85 percent of Nissan's U.S. sales volume is from vehicles manufactured at plants in North America, and the localization rate of parts in the region is high, we believe there will be minimal impact on Nissan's operations," Nissan spokesman David Reuter said in an email.
Copyright Reuters 2015.