Kodiak Enterprise Dewatered and Defueled, But Ship's Fate Undecided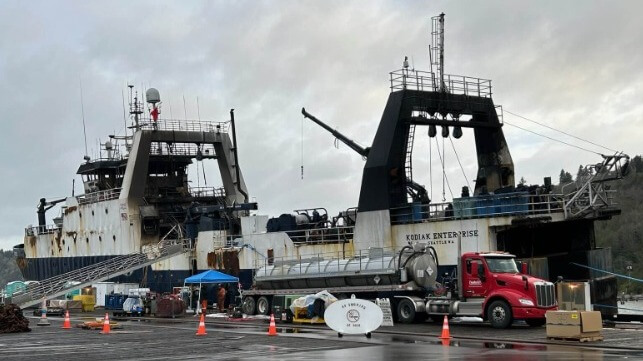 The U.S. Coast Guard has stood down the unified command for the fire aboard the factory trawler Kodiak Enterprise, and the initial response is effectively complete.
The trawler Kodiak Enterprise caught fire at the Trident dock in Tacoma on April 8. Multiple fire units from the Tacoma Fire Department responded to the scene. An early attempt to battle the blaze with an onboard fire team was abandoned, and the responders applied cooling water to exterior as the fire burned through.
According to Tacoma Fire, most of the flammable material on board was consumed, and the fire largely subsided within four days. After the blaze reduced in intensity, firefighters again boarded the ship to eliminate the last hotspots.
The vessel took on a list during the response due to accumulation of firefighting water, but a dive inspection confirmed that the ship's hull integrity was intact below the waterline. The ship's intakes were sealed from the outside as a preventive measure.
Last week, salvors boarded the vessel and alternated between pumping off fuel and pockets of water to maintain stability. All of the diesel left aboard the vessel was successfully removed, and no fuel spills or sheening were observed during the defueling operations. Now that the pollution threat has been minimized, the Coast Guard has stood down the response command.
"This was a dangerous operation that could have resulted in loss of life, harm to the marine environment from the fuel onboard, or capsizing of the vessel," said Cmdr. Kira Moody, the Coast Guard incident commander. "On behalf of the Unified Command, I share immense gratitude and appreciation for the responders from Tacoma Fire and Resolve Marine. Their steady and professional approach made this response a success."
The fate of the Kodiak Enterprise has not yet been decided, according to the Coast Guard. The fire burned through a substantial share of the vessel, including the accommodations block and the wheelhouse.
The fire aboard Kodiak Enterprise is the second to affect a Trident Seafoods fishing vessel in two years. In February 2021, the Trident fish processor Aleutian Falcon caught fire at a shipyard in Tacoma during maintenance work. The damage was extensive, and the Falcon was declared a total loss.
"This has been an incredibly challenging time and we are grateful for the support and collaboration of all the agencies and parties in fighting the fire," said Joe Bundrant, the CEO of Trident Seafoods. "We also appreciate the patience of the surrounding Tacoma community throughout the incident response. The Kodiak Enterprise is more than just a fishing vessel to the Trident family, especially to her crew."