Kiel Canal Reopens After Oil Spill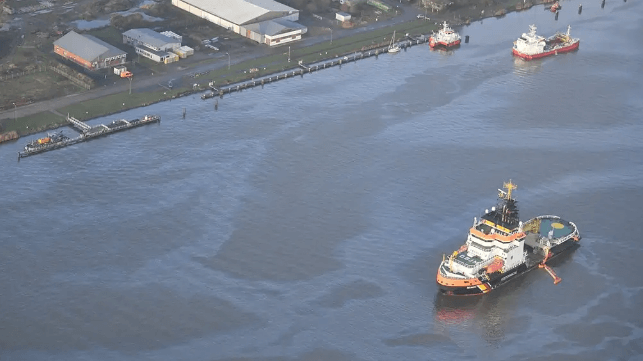 On Tuesday, Germany's strategic Kiel Canal reopened after a weekslong closure caused by an oil spill.
On December 21, a pipeline released an estimated 3,200 gallons of oil into the inner harbor at the port of Brunsbuttel, the North Sea/Elbe entrance to the canal. According to Tobias Goldschmidt, the state's environment minister, the oil slick spread over a stretch of water four miles in length.
About 150 volunteers and workers and three spill-response vessels joined the effort to mitigate the spill, and the canal locks were temporarily closed to prevent the spread of pollution. A thick layer of oil floating on the water had to be removed with sorbent before traffic could resume, the incident command told DPA.
At one point, at least 30 ships were queued up and waiting for the waterway to reopen, and some opted to change course and navigate around Denmark through the Kattegat instead. The closure cost German shipping more than $1.5 million per day, according to German public radio network NDR.
Final cleanup will take more time, but the overwhelming majority of the spill has been removed, authorities told NDR. The work has reached a point where shipping can safely resume.
The Kiel Canal is a 60-mile artificial waterway connecting the North Sea with the Baltic, allowing small vessels to shorten their voyage between the two regions. It dates to the 19th century, but in the years leading up to the First World War, it was enlarged to fit the dimensions of the largest German warships of the era. Today it can accept ships with a length up to 770 feet, a beam of up to 106 feet, air draft of 130 feet and a draft of about 23 feet.
Like the Bosporus, the Kiel Canal is open to international navigation by treaty, though locally maintained and controlled.