Keel Laid for New Zealand Navy's Aotearoa
A keel laying ceremony was held on Monday for the Royal New Zealand Navy's new polar-class support vessel Aotearoa, the largest ship the Navy has operated to date.
The 26,000 ton tanker and replenishment vessel is being built by Hyundai Heavy Industries as part of New Zealand's Maritime Sustainment Capability project. The multi-purpose vessel will provide refuelling services, freshwater generation, significant cargo-carrying capability and the ability to conduct air patrols with an embarked Seasprite or NH90 helicopter.
Aotearoa will replace the now decommissioned tanker HMNZS Endeavour. Expected to enter service in 2020, she represents the first of a new fleet of ships built specifically to address the global requirements of the New Zealand Defence Force and government agencies for deployment from Antarctica to the Arabian Gulf.
She will be able to carry 12 containers of supplies and have the ability to produce 100 tons of fresh water each day, making a significant contribution to humanitarian aid and disaster relief operations. She will carry 9,500 tons of fuel - enough to fuel a frigate like Te Mana or Te Kaha 13.87 times.
Aotearoa will have a core crew of 64 plus 11 flight crew. Her commanding officer will be Captain Garin Golding, currently the Commander of the Deployable Joint Inter-Agency Task Force. His last ship command was HMNZS Manawanui in 2002, which involved two deployments to the South Pacific and south-east Asia. Golding has also served on Waikato, Tamaki, Monowai, Southland, Wellington and Endeavour, particularly as navigating officer.
"It's a privilege to have two commands," he says, noting he has gone from one of the Navy's smallest vessels to its largest.
At the end of the year Golding will join the Aotearoa team operating alongside the construction of the ship in South Korea. In mid-2019, the crew will be brought together for training.
Aotearoa is the M?ori name for New Zealand.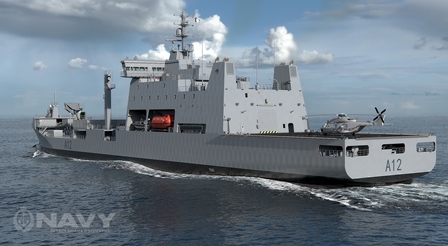 Aotearoa Key Facts:
Length: 173.2 meters (568 feet)
Displacement: 26,000 tons
Range: 6,750 nautical miles
Speed: 16 knots
Core crew: 64 (can accommodate 100)
Total liquid cargo capacity: 9,500 tons
Typical dry cargo capacity: 12 TEUs