The keel of new Mein Schiff 2 was laid at Meyer Turku shipyard on Thursday.
She will be a sixth ship build by Meyer Turku for German TUI Cruises and is expected to be delivered early in 2019. Her sister ship new Mein Schiff 1 will be delivered from Meyer Turku shipyard in the spring of 2018 and was floated out in September.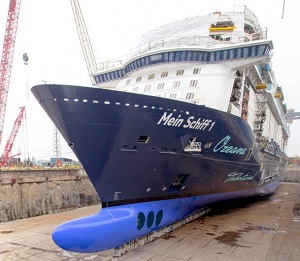 Both ships are based on the successful Mein Schiff 6. Mein Schiff 2 will be 20 meters (66 feet) longer (315 meters – 1,033 feet) than Mein Schiff 6. Both ships will have space for 2,894 guests, and they will be true sports and wellness ships. There will be a jogging track of 438 meters (1,437 feet), almost twice as long as in Mein Schiff 6 and a closed and covered sports arena. Both new vessels will also have a climbing wall.
TUI Cruises CEOs Wybcke Meier and Frank Kuhlmann were present at the keel laying and were one of the VIP guests to fix lucky coins under the keel of the ship. "With new Mein Schiff 1 and 2 we will get two great new ships to lead our fleet in the coming years," said Meier.
For Meyer Turku, the keel laying took place in the middle of a very visible investment, as the parts of a new 1,200-tons goliath gantry crane were being moved at the shoreline. "Working on our ships and our capabilities will prepare us for the increasing international competition," said Meyer Turku CEO Jan Meyer. When fully erect, the new gantry crane will reach 130 meters (427 feet) height.