Japanese Destroyer Disabled and Leaking Oil After Hitting Rock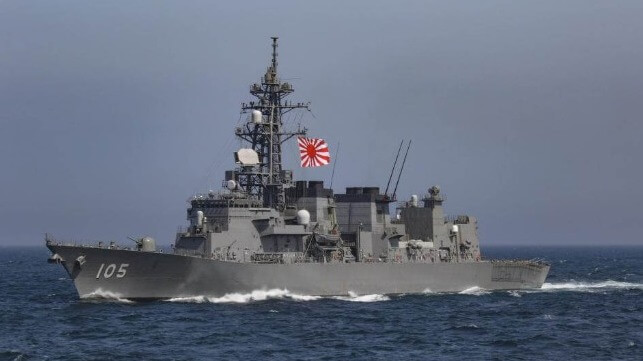 One of Japan's Murasame-class destroyers, the JS Inazuma, hit a rock while on sea trials off the coast of Japan disabling the ship and causing an oil spill. Reports are that the vessel is unable to move but that none of the sailors aboard were injured or are in any immediate danger. Japan's Maritime Self-Defense Force (MSDF) however was left embarrassed by the incident which the Coast Guard is reporting it plans to investigate.
The 4,500-ton JS Inazuma had recently been in the Japan United Marine shipyard in Innoshima undergoing routine maintenance. The 495-foot vessel reported departed the shipyard this morning, January 10, for a planned day of sea trials with 190 sailors aboard. The vessel normally operates with the 4th Escort Squadron at Kure Base in Hiroshima Prefecture and earlier this year had participated in joint exercises with the U.S. Navy.
The Kyodo News service is quoting the Coast Guard which said that at midday sailors aboard the vessel reported "There was a loud bang and we became unable to sail on our own." Other reports are citing a sudden large vibration in the hull of the ship.
The Coast Guard reports the vessel dropped anchor and that assistance was being sent. The plan is to tow the vessel back to the shipyard.
???????????? ??????7m??? ?????? #nhk_news https://t.co/PqX2VIOGx3

— NHK???? (@nhk_news) January 10, 2023
The destroyer was operating at a speed of approximately 31 knots in an area known to have fast currents and relatively shallow waters. Local reports said the winds were strong and the sea was considered to be rough while the vessel was sailing in the Seto Inland Sea in western Japan.
At the time of the incident, the destroyer was reported to be operating approximately one mile south of the shipping lane used by commercial vessels. Speculation centers on the vessel having hit an underwater rock which is thought to have damaged her propeller and possibly the rudder.
After the incident, Japanese news helicopters spotted an oil slick which was later confirmed by the Defense Force. Estimates were that it was covering an area of approximately 10,000 square feet while other reports said it was stretching for up to 100 feet behind the vessel. News media pictures showed the crew throwing absorbent pads from the stern of the destroyer while other boats were in the water collecting the pads as they drifted away from the ship.
The Japan Coast Guard expects that the vessel will remain anchored in its current position overnight and possibly longer while the salvage plan is developed. In addition, Kyodo News is quoting a coast guard officer as saying they were planning to "investigate the incident as a possible case of professional negligence endangering navigation." The MSDF said it will cooperate to investigate the cause while it also plans its own investigation.