Japan's Major Shipping Companies Buy Stake in LH2 Carrier Project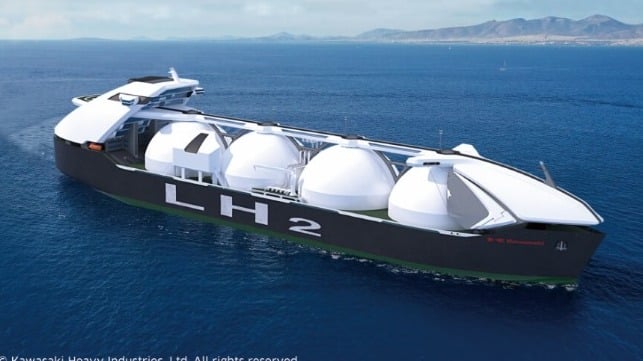 The three major Japanese shipping companies, "K" Line, MOL and NYK, have agreed to buy nearly half the stock in JSE Ocean Ltd., a liquefied hydrogen transport initiative led by Japan Suiso Energy (JSE).
JSE is a joint venture of Kawasaki Heavy Industries (the builder of Japan's trial-scale LH2 carrier, Suiso Frontier) and Iwatani Corporation. It was created in 2021 for the Hydrogen Energy Supply Chain Project, an initiative to extract hydrogen from brown coal and ship the product to Japan. The project was launched with support from the Japanese government's Green Innovation Fund, and Iwatani and Eneos Corporation are the other two participants.
JSE Ocean was established in January 2023 to research LH2 transport on a large-scale, hydrogen-fueled LH2 carrier. On September 12, K Line, NYK and MOL agreed to buy about 16.6 percent of JSE Ocean each. JSE remains the majority shareholder in JSE Ocean with a stake of 50.2 percent.
Japanese corporate consortium HySTRA (Hydrogen Energy Supply-chain Technology Research Association) owns and operates the Kawasaki-built Suiso Frontier, the world's only LH2 carrier. "K" Line and Iwatani are among the many companies involved in this operation.
The trial-scale development of LH2 shipping has yielded early lessons-learned. In 2022, the failure of an under-designed electrical solenoid valve caused a burst of flame from a vent stack aboard Suiso Frontier, according to the Australian Transport Safety Bureau.
Hydrogen has an important place in Japan's decarbonization plans. The nation has a national hydrogen strategy, and it has committed to a target of three million tons per year of hydrogen by 2030 and 20 million tons per year by 2050.