IUMI: In Ro/Ro Fires, Conventional Vehicles Burn Just as Fiercely as EVs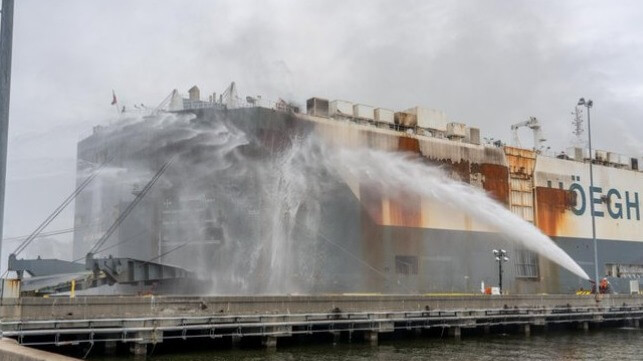 The recent fire incident aboard car carrier Fremantle Highway has intensified questions on the safety of transporting electric vehicles (EVs) in shipping industry. While the final report on the actual cause of fire in the Fremantle Highway is yet to be released, the shipping community is scrabbling for answers over the controversy of numerous ship fires in the recent past, especially on car carriers and roros (roll-on/roll-off ships).
In response, the International Union of Marine Insurance (IUMI) has researched these claims and published a paper last week seeking to dispel fears on the safety of shipping EVs.
Primarily, the paper focuses on two aspects. First, the risks associated with carriage of EVs on two different ship types - pure car and truck carriers (PCTCs) and roro/ropax vessels. The second is whether there is a higher probability for EVs to catch fire than internal combustion engine vehicles (ICEVs).
"Our paper draws on a body of scientific research which demonstrates that fires in battery EVs are not more dangerous than fires in conventional vehicles, nor are they more frequent. Although statistics continue to be gathered, they currently estimate that, in general, there are fewer fires from EVs compared with fires from conventional vehicles when driven over the same distance," explains Lars Lange, IUMI Secretary General.
Data from the EU-funded Lash Fire Project has also shown that there is a minor difference between EV fires and those of ICEVs. Although factors such as state of charge (SoC) and thermal runaway (when a battery suffers unstable chemical reaction) could affect the growth and peak heat release in EV fires, this does not increase total heat released when compared to ICEV fires.
In addition, studies by the Danish Institute of Fire and Security Technology and the US-based National Fire Protection Association (NFPA) have found that EV fires, once established, are largely fueled by the car body and interior parts made of plastic materials and the fire load is similar to that of ICEVs.
However, the challenge with EV fires arises at the firefighting stage. A thermal runaway in a lithium-ion battery is indeed difficult to extinguish unless the firefighting agents are injected directly into the battery to enable efficient cooling.
In this case, ship type is also a critical factor in determining the severity of fire from vehicles onboard. For instance, roros stow cars on open decks where air flow makes fire-fighting more challenging. Ropax vessels (where passengers are carried) present additional issues, such as some passengers wanting to charge their EVs onboard and the possibility of cars being loaded that are older and potentially less safe.
Conversely, PCTCs tend to carry vehicles tightly packed, leaving little room for emergency access and facilitating rapid spread of fire. External firefighting teams are also not familiar with the design of these vessels and are not trained to fight fires in such environments.
In light of this, IUMI makes a number of recommendations. The most important is early fire detection and confirmation to reduce the time between detection and firefighting response. Options, in addition to the conventional systems, could include thermal imaging cameras and AI powered systems. Drencher systems could also be effective for fire-fighting onboard roro and ropax vessels both for EV and ICEV fires and should be installed alongside video monitoring systems.
At the policy level, the IMO's sub-committee on Ship Systems and Equipment (SSE) is scheduled to meet beginning March 2024. The committee will evaluate adequacy of fire protection, detection and extinction arrangements in vehicle, special category and ro-ro spaces in order to reduce fire risk of ships carrying new energy vehicles.
This will be an important forum for industry stakeholders to chart appropriate safety procedures for shipping of alternative fuel vehicles.