Insurers Pull Back After Strikes on Ukraine's Danube Grain Ports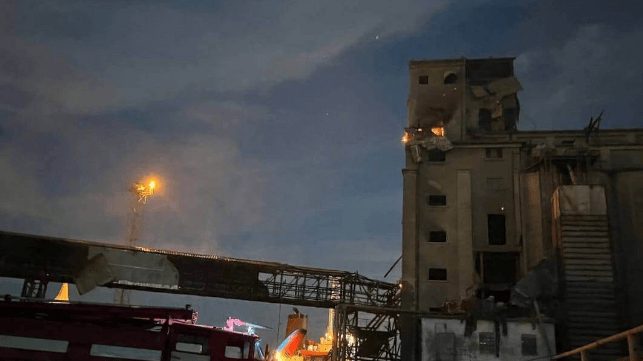 Ukraine's Danube River ports are a lifeline for the nation's grain export trade, but persistent Russian drone attacks have put their future into question. A strike on Izmail this week caused extensive infrastructure damage, and marine insurers are beginning to back out of the region, which was until recently perceived as relatively low-risk.
On Tuesday night, Russian forces conducted a large-scale suicide drone strike on the port of Izmail, damaging 40,000 tonnes of stored grain, according to Ukraine's defense ministry. Photos from the scene suggest that silos and grain elevators were directly targeted. Izmail is just across the Danube from Romania, and video taken from the Romanian side showed explosions and fires burning in multiple parts of the seaport. Romania is a NATO member, and Russia's willingness to use aerial strikes so close to NATO territory has raised concerns about an escalation of the conflict.
Despite the airstrikes, the repeated Russian threats, recent intelligence warnings of new naval mine emplacements and the presence of Russian warships near Ukraine's sea lanes, the risks are not yet high enough to fully deter foreign-flag shipping. Three vessels transited the route from the Bosporus to the Danube this week, and Romanian authorities say that they expect to accommodate 30 more Ukraine-bound river transits this month.
However, there are clouds on the horizon. At least two marine insurers have decided to cease offering coverage for Ukraine's Danube waterway, according to Reuters. All insurance cover for the Ukrainian Black Sea coastline - including the larger ports previously covered by the Black Sea Grain Initiative - has been suspended. The Ukrainian government has signaled plans to launch its own insurance cover for shipping, but admits that any (new) Russian strikes on foreign-flag vessels would complicate its efforts.
If the Danube route shuts down, Ukraine's only remaining option will be overland exports through the European Union, either for onward transit to an EU port for export or for local sale within Europe. This too faces complications. Poland and other bordering states have protested the surplus of Ukrainian grain on their domestic markets: Local sales have reportedly depressed prices for Polish farmers, leading to intense political pressure to ban Ukrainian grain. Poland plans to suspend imports of Ukrainian agricultural goods on September 15, whether or not it has EU support for the move, Polish Minister of Agriculture Robert Telus said Thursday.
The only way to fully restore export capacity is to reopen the large seaport terminals around Odesa, according to International efforts to convince Russia not to attack Ukraine's food exports continue, led by Turkish President Recep Tayyip Erdogan. Russia has refused to allow Ukrainian grain to cross the Black Sea unless a sanctioned government bank is reconnected to the global interbank messaging network, SWIFT - an arrangement that the West has so far refused to allow.
Russia's blockade has attracted criticism from many corners of the globe. As of Wednesday, about 90 nations have signed a request calling for a cessation of "the use of famine, starvation, and food as weapons of war." On Sunday, Pope Francis described attacks on Ukrainian grain as a "grave offense against God, for grain is his gift to feed humanity." And China - which is both Russia's most powerful ally and the largest buyer of Ukrainian grain - has called for the corridor to reopen immediately. Over the last year, Chinese buyers purchased 25 percent of all Ukrainian grain on the Black Sea route, including six million tonnes of corn and wheat. This amounts to roughly one fifth of all Chinese imports of these two staples over the same period - and the supply will now have to come from somewhere else.
"With the breakdown of the Black Sea Grain Initiative, the pressures on Beijing are going to be extreme in terms of food price inflation," David Riedel of the Riedel Research Group told CNBC.