Inspirational Veterans to Row Across the Pacific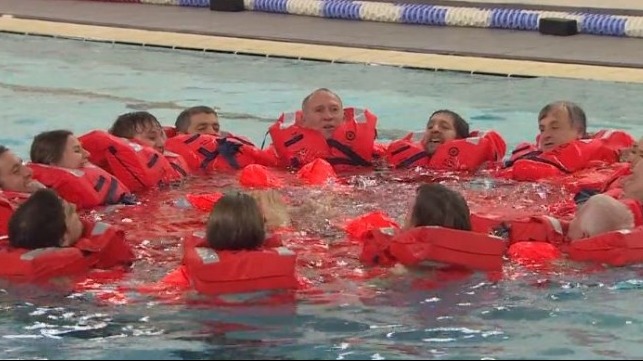 Two former Royal Marines, Steve Sparkes and Mick Dawson, are preparing to row across the Pacific Ocean in the Great Pacific Race.
Sparkes lost his sight due to a diving accident during his service in the Corps, and the men aim to raise awareness and money for two charities, Blind Veterans UK and The Royal Marine Charity.
The men will set off on June 2, 2018 and row 2,400 miles from California to Hawaii. They will be among a fleet of up to 20 competitors, and it will take between 50 and 60 days to finish their voyage.
Dawson is a professional sailor and one of the most experienced rowers in the world. He's had various adventures including rowing the Atlantic Ocean twice and has a Guinness World Record, as he successfully skippered the first and only rowing boat across The North Pacific Ocean.
Following his successes Dawson created the Cockleshell Endeavour Project which originally helped his friend and former Marine, Steve Grenham, who suffered with issues of PTSD and was struggling to find help. 35 years after the pair took part in the Falkland's conflict, they made a successful nine-day circumnavigation of East Falkland in a two-man kayak as part of Dawson's project.
Sparkes, also a Falklands veteran, has built a new and successful life for himself and is now an inspirational figure within Blind Veterans UK and the blind veteran community in general. He is determined to show that a disability of any sort doesn't need to hold you back. On completion of the row, he will become the first visually impaired person to row the Pacific, and he hopes to inspire others during the process.
Seahaven Maritime Academy's has been involved in training the men who have completed the Basic Sea Survival course. Sparkes will complete First Aid and Marine Radio Short Range/VHS courses at the facility in the port of Newhaven, East Sussex, in the upcoming weeks.
Steve Brand, Managing Director of Seahaven Maritime Academy, commented, "Our team has thoroughly enjoyed training both Steve and Mick over the last month. Our ethos here at SMA is to offer excellent training at an affordable price with the emphasis on dealing with people not numbers. We're extremely proud to have been able to help prepare this pair for their adventure. The charities they are support are fantastic, and we look forward to seeing Steve and Mick cross the finish line."
To donate, visit Steve and Mick's Just Giving page:(https://www.justgiving.com/crowdfunding/cockleshell-pacific).