Somebody has been stealing warships from Southeast Asian waters – more specifically, sunken warships, which are prized for their scrap metal value. Indonesian authorities now believe that they have caught one of the perpetrators: they allege that the 8,000 gt Chinese grab dredger Chuan Hong 68 was responsible for illegally scavenging the wrecks of the pre-WWII Japanese destroyer Sagiri, plus the passenger vessels Hiyoshi Maru and Katori Maru, the steamship Igara and the tanker Seven Skies.
It is the second time that maritime authorities have caught the Chuan Hong 68 in as many months. On April 20, the Indonesian Navy detained her in the waters off Natuna in the Riau Islands on the suspicion that she was engaged in illegal dredging. She escaped on April 22 and fled to Malaysia, where she was detained once again by the Malaysian Maritime Enforcement Agency.
"I laud the Malaysian authorities, in this case the Malaysian Maritime Enforcement Agency, which has been cooperating with the Indonesian Navy, to seize MV Chuan Hong 68 in the Pengerang waters, East Johor," said Maritime Affairs and Fisheries Minister Susi Pudjiastuti in a statement. She added that the practice of illegal salvage was unfortunately common in Indonesian waters, by foreign as well as domestic vessels.
The Jakarta Post reports that the Chinese government believes the Chuan Hong 68 was operating under charter to a Malaysian firm. "It has been engaged in offshore engineering in the waters specified by the Malaysian side according to the contract," the Chinese Foreign Ministry said in a statement.
As of Monday, the Chuan Hong 68's AIS signal showed her at anchor at the Pasir Gudang Anchorage off Pengerang, Malaysia. Recent images of her topsides show a heavy crane mounted all the way forward on her bow, rigged to a giant pointed grapple. Scrap is shown strewn about the decks aft of the crane.
Unlicensed wreck removal has affected a significant number of maritime war graves in Northern European and Southeast Asian waters. Many warships sunk in World War I and World War II have been vandalized for their bronze propellers, the copper in their boilers and even for their scantlings and hull plating. Vessels built before 1942 have steel that was smelted before atomic bomb testing put radioactive isotopes into the atmosphere, and this "low-background" material is valuable for making sensitive scientific instruments.
The plundering continues despite the fact that these ships are designated war graves. Two Dutch vessels that went down in the Battle of the Java Sea have completely disappeared, along with a section of a third. The wrecks of HMAS Perth, HMS Electra, HMS Exeter, USS Houston and USS Perch have also been affected.
UK newspaper The Guardian found that local institutions in Indonesia – including a university and a maritime authority – were involved in "licensing" at least one WWII vessel salvage operation. Photos of that operation taken by local residents and provided to the paper (below) correspond closely to the appearance of the Chuan Hong 68.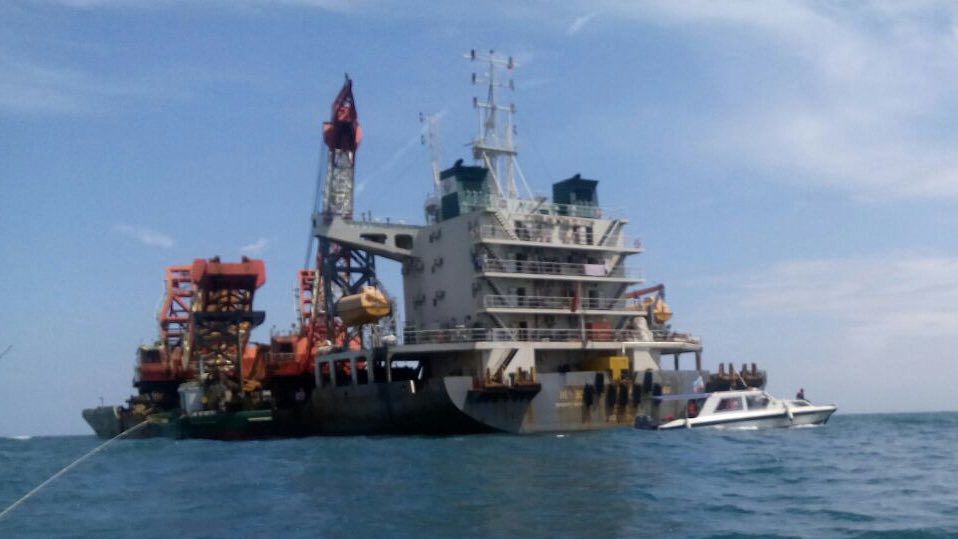 Supplied / The Guardian