Indian Navy Sends a Submarine to Australia for the First Time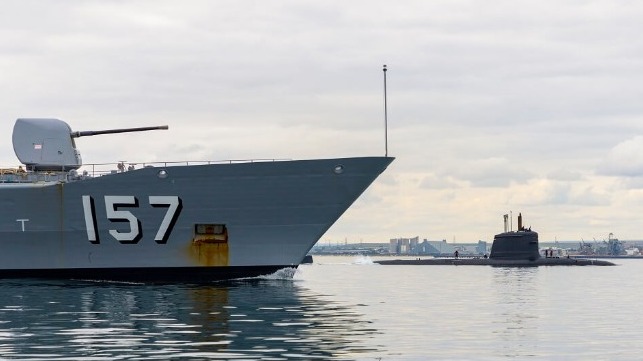 The Indian Navy submarine INS Vagir recently called at Fremantle, marking its first time that the service has sent a sub to Australia.
INS Vagir's deployment commenced in June, and it sailed for over 4,000 nautical miles to reach Australia. It made one port call in Sri Lanka on the way.
INS Vagir's visit comes against the backdrop of the ongoing Exercise Malabar on the east coast of Australia, which involves navies from Australia, India, Japan and the U.S. During the exercise, India was represented by its two warships INS Sahyadri and INS Kolkata.
Separately, INS Vagir participated in various exercises with units from the Royal Australian Navy (RAN) along the west coast of Australia. Primarily, the operation involved basic, intermediate and advanced-level anti-submarine exercises with a RAN submarine and an Indian Navy P8 aircraft.
"The ongoing INS Vagir deployment is a testament to the reach and sustenance of Indian submarines. The extended range deployment by an India submarine to Australia showcases the capability and professional acumen of India to undertake sustained operations at extended ranges," said Indian Navy Spokesperson Commander Vivek Madhwal.
INS Vagir was commissioned into the Indian Navy in January. It is the fifth conventionally powered Scorpene type submarine (Kalvari-class) to join the Indian subsurface force as part of the P-75 submarine acquisition project. The sixth and the last submarine under the project is scheduled for delivery next year.
INS Vagir's deployment takes defense cooperation between Australia and India a notch higher. With extensive maritime zones in the Indian Ocean, the strategic interests of the two countries continues to converge.
The long-range visit also marks a growing recognition of Australia's importance as a strategic partner. The U.S. Navy and the Royal Navy both have plans to base submarines in Australia as part of a joint nuclear propulsion training agreement, AUKUS. Australia is also an important ally for Western efforts to constrain China's coercive tactics in the South China Sea: the amphib HMAS Canberra is currently operating with Japanese and American naval forces off the Philippines, displaying strength after China's recent blockade at Second Thomas Shoal.