India Needs Port Investments to Support Global Ambitions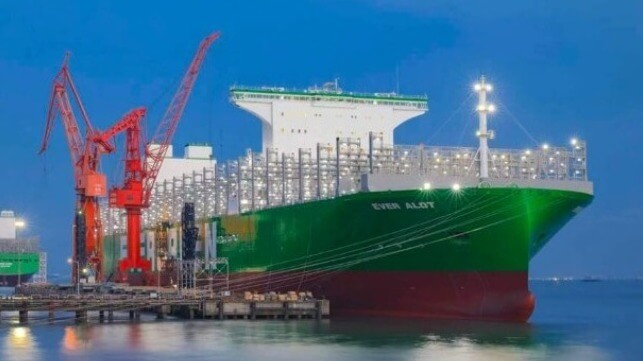 The news is currently awash with reports of China losing its place as the center of the world's supply chains. After almost three years of Covid-restrictions in China's manufacturing hubs, in addition to persistent issues regarding human rights and other government controls, some companies have chosen to move their operations out of China. India, Vietnam, Thailand, and Bangladesh are all competing to position themselves as China's alternative.
India has been especially aggressive to present itself as an alternative with the government working to develop the country's capabilities and highlighting itself as an alternative. It is for that reason that India was especially disappointed when the world's largest containerships bypassed its ports in recent months. Blomberg in a recent report analyzing the emerging economies of Asia highlighted that while neighboring Sri Lanka and Malaysia received visits from Evergreen Line's new ultra-large containership Ever Alot (225,00 dwt – 24,000 TEU) and her newly introduced sister ships, the ULCVs are skipping India.
The current state of India's ports is considered a major hurdle to its ambition of becoming the factory location for the world. Momentous work lies ahead in upgrading Indian maritime hubs into deep-sea ports, something that could disadvantage corporations looking into the Indian market.
Of the fourteen major ports serving India, most of them are not deep enough to handle Ultra-Large container vessels. For example, India's busiest port, Jawaharlal Nehru, lacks the necessary 55-foot draft needed to accommodate mega-ships. So far, Mundra port, a gateway to the hinterland of northern India, is the only terminal that has come close to handling a mega boxship. The 17,292 TEU capacity APL Raffles (177,000 dwt) docked at the port in January 2022, unloading 13,159 TEUs.
Among the other parameters, the size of containerships calling at a country's ports is used as a measure for liner shipping connectivity. For instance, in the second quarter of 2022, the U.S. ranked fifth globally in the liner shipping connectivity index (LSCI). Part of the reason is that there were large fluctuations due to changes in maximum vessel sizes deployed to U.S. trade routes. Hong Kong also saw a drop from fifth to tenth position as large container vessels serving the China-Europe trade route, started skipping this port.
A 2022 report by the Reserve Bank of India concurred that the country has poor shipping connectivity, a factor hindering its integration into the global value chain. India scored 34 percent in the global value chain participation index compared to 45.9 percent, the average score for the ASEAN region.
Nonetheless, UNCTAD in its Maritime Transport Review of 2022 noted that India is witnessing a growth in intra-regional shipping connections. The strengthened connections are emerging in India's trade with Pakistan, Sri Lanka, China, the Republic of Korea, Malaysia, Saudi Arabia, and the UAE.
In the last year, Jawaharlal Nehru port and Mundra Port also secured several additional connections facilitated by the ongoing port expansions and upgrades including the launch of dwarf-container train services. Dwarf containers are lower by approximately 25 inches than standard containers giving them a multimodal logistical advantage.
In addition, with the ongoing development of the deep-sea Vizhinjam Port in southern India, liner connectivity is poised to increase. The port has a natural draft of 65 to 80 feet 20 to 24 meters, making it capable to handle bigger vessels.
Experts however predict that India will need to invest large sums to expand and modernize its port operations or increase its emphasis on privatization to support its global ambitions.