Independent Livestock Observer Documents Heat Stress on Bahijah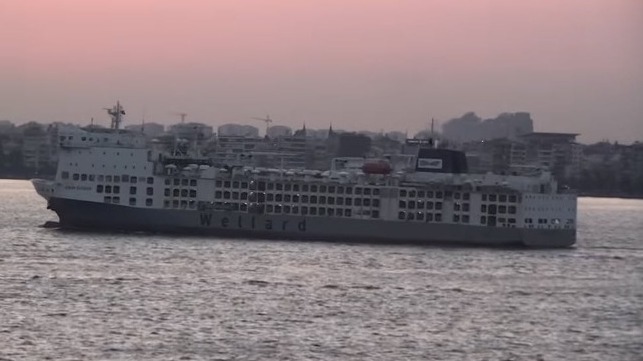 The Australian Government has released the first and only summary to date out of more than 18 independent observer reports from live export voyages.
The three-page document provides a snapshot of the observations of an officer from the Department of Agriculture and Water Resources on board the Bahijah as it sailed to the Middle East with 9,227 sheep and 3,695 cattle in June this year. During the 22-day voyage, 17 sheep and one cow died.
Observers were placed on some vessels after whistle-blower footage aired on 60 Minutes in April showed thousands of sheep suffering severe heat stress; sheep caked in melted feces and urine; injured and sick animals left to die slowly; decomposed bodies left in pens with living sheep and pregnant ewes giving birth and their lambs dying.
The report reveals that the voyage complied with the Australian Standards for the Export of Livestock, but despite this, "a degree of heat stress existed for the sheep on board the vessel from the equator until passage of the Suez Canal" (a period of eight to ten days), peaking one particular afternoon when "open mouth panting and higher levels of heat stress existed across the ship."
The report noted that the heat stress was "unavoidable in the conditions."
Former live export veterinarian Dr. Lynn Simpson had this to say about the numbers: "With nearly 10,000 sheep on a summer voyage of 22 days including passage through the notoriously hot and humid Gulf of Aden, I find it truly remarkable that only 17 died. This figure is either indicative of the overdue need for greater space for animals to survive unacceptable prolonged and accumulated heat stress, or indicative of stories I've heard whereby dead animals are thrown overboard at night, out of the sight and knowledge of any potential observer or reporting entity and not included in the mortality count. I hope the loaded and unloaded numbers verify, without doubt, that no dubious activity was at play."
RSPCA Australia Senior Policy Officer Dr. Jed Goodfellow described the report as damning. "The report confirms what the RSPCA and the Australian Veterinary Association have been saying all along – it is simply not possible to export sheep to the Middle East during the northern summer period of May to October without animals suffering heat stress.
"With all sheep affected by heat stress to a moderate or elevated degree, the outcomes of this voyage would have breached the new heat stress risk parameters set to be introduced following the McCarthy Review. In reality, when Australian sheep are sent into the Middle Eastern summer there is a 100 percent probability of 100 percent of the animals suffering heat stress."
The only way to avoid that outcome is to completely cease exporting sheep to the Middle East from May to October, he says. "How much more evidence does the Government need before it acts?
"There is little good news in this report, and it is a very selective summary – but what's even more worrying is that we're still awaiting the report from nine shipments before this one, and a further 13 shipments since."
Goodfellow says it's been a lengthy and ongoing fight to secure the release of these reports in the public's interest. "Despite the claims of greater transparency and high level of public concern, the RSPCA has been battling the Department of Agriculture for more than three months to obtain copies of the observer reports under Freedom of Information laws," he said.
"Multiple amendments to requests, many hours of work by the RSPCA, and $1,600 in processing fees later, and we're still none the wiser. How many more animals will this Government knowingly subject to unnecessary suffering just to keep a dying trade alive? Australians have overwhelmingly made it clear they don't accept that animal suffering is ok because there's a buck to be made, and time and again, the evidence shows this trade cannot operate without animal suffering."
The professional veterinarian organization Vets Against Live Export (VALE) has also spoken out after release of the report. "VALE cant believe that government and industry are showing this report as being proof that all is good with the live export trade. It shows just the opposite. It shows that with the spotlight firmly on the industry and an independent observer that basic issues such as veterinary supplies and wool length in some sheep were not adequate."
The report notes that temperatures were recorded every four hours by the crew with a handheld device and averages were collated for the daily report. The observer felt that given an average was being reported that this did not reflect the daily maximum temperature and humidity levels.
VALE says that routine practice has always been to measure the temperature only once daily in the morning and that even with four recordings daily, the average did not reflect the daily maximum temperature and humidity, validating complaints and also demonstrating that the basis for the heat stress risk assessment used by the industry has likely been fundamentally flawed.
The observer noted that some water troughs were empty for short periods of time due to plumbing problems. The Bahijah, is is a relatively young livestock carrier built in 2010, and there were multiple plumbing issues over the 22-day voyage.
The Ocean Outback was sold and renamed Bahijah several years ago. She made headlines in 2016 after a mechanical failure saw her stranded in port for 10 days with over 13,000 animals on board.
Seaspray resulted in flooding at one point late in the journey on Deck 6, and these pens were vacated until their condition could be rectified. VALE says that had the stocking rate not been reduced under the new regulations instituted after the whistleblower footage was revealed, this may have resulted in issues of increased stocking density pressure throughout the ship. In addition, the fact that seaspray was so severe that flooding occurred indicates that animals would have been uncomfortable and in an adverse welfare state for some unspecified time period.
"It is yet another issue of the problems that can occur at sea any time, making every voyage so unpredictable for livestock."
This was a low mortality but high morbidity voyage, says VALE.