IMO Selects Chinese Rescue Diver for 2018 Bravery Award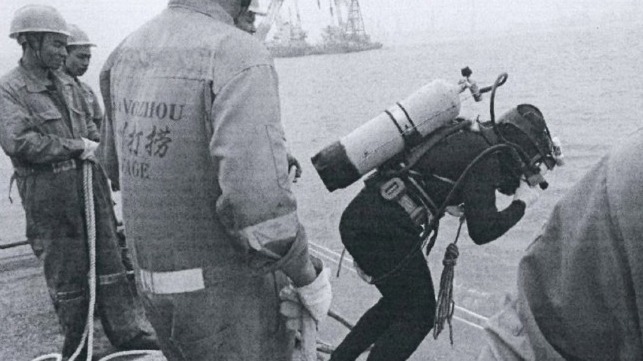 A Chinese diver who rescued three people from a sunken cargo ship will receive the 2018 IMO Award for Exceptional Bravery At Sea. Zhong Haifeng, senior diver and deputy of the engineering team of Guangzhou Salvage, was nominated by China and selected by an IMO panel.
On the morning of November 27, 2017, the bulker Jin Ze Lun collided with the freighter Shun Jin Long at the port of Guangzhou. The Shun Jin Long remained afloat, but the Jin Ze Lun went down shortly after the collision. Two out of the 14 crew on board were immediately rescued by local maritime authorities, but the others remained missing. The bulk carrier was lying on the seabed, in the main channel into the port, and a strong current meant extreme difficulties for any underwater search and rescue operation.
Zhong was put in charge of the search effort. After 36 hours of repeated dives, six survivors were located, all trapped in the cargo hold. Zhong instructed his team to replenish oxygen to the compartment and talk to the trapped survivors in order to calm them.
Zhong then dived down to the cargo hold alongside a teammate, bringing scuba diving equipment for those trapped underneath. On the afternoon of November 28, Zhong dived down to the wreck six times. He taught survivors how to put on and use scuba diving equipment and personally rescued three of them in the space of one hour, despite becoming extremely exhausted. The IMO's judging panel agreed that by exerting tireless efforts under dangerous circumstances, Zhong demonstrated exceptional bravery and human spirit.