Hospital Ship Helps More Puerto Ricans at the Pier than at Sea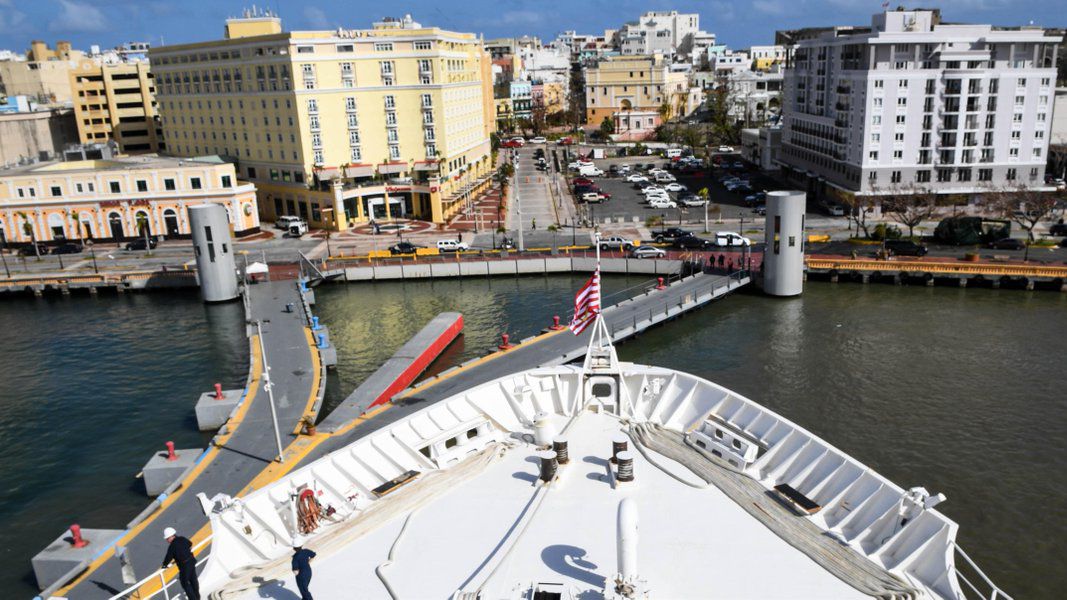 The hospital ship USNS Comfort is back at the pier in San Juan, Puerto Rico, and has set up a shore-based screening team to help bring in patients from the general population. Her medical personnel have treated 270 people over the three days since her return – about 70 more than they helped during the preceding three weeks at sea.
"The Puerto Rican Department of Health along with the U.S. Department of Health and Human Services, has determined that being in close proximity to [the Centro Medico trauma center] is the best utilization of Comfort," said Capt. Kevin Robinson, mission commander aboard Comfort. "We're going to . . . have a great opportunity to reduce human suffering. That continues to be our number one goal."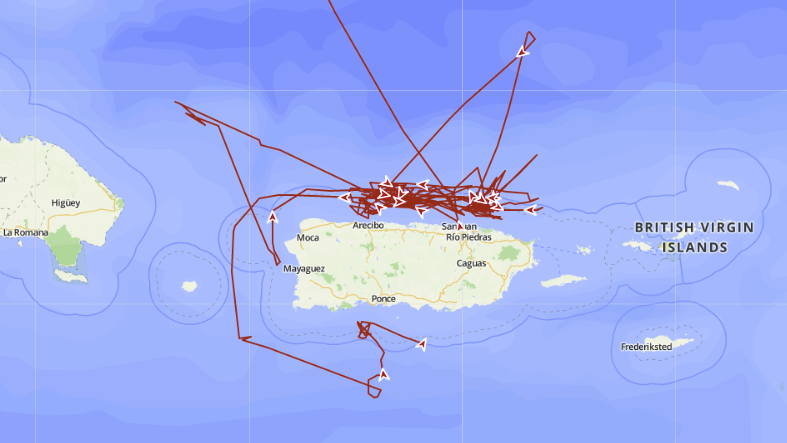 Comfort's movements October 3-20 (satellite AIS data)
On October 5, two days after her arrival in San Juan, Comfort departed on a round-the-island tour in support of the disaster relief effort, remaining about 10-12 nm offshore. During her voyage, the 250-bed hospital ship accepted an average of nine people per day. The patients were selected through a referral process and delivered to the ship by helicopter or boat tender.
This system came in for criticism from hospital administrators and patients, who argued that it made the ship's services hard to access. Puerto Rico Governor Ricardo Rossello acknowledged difficulties with the referral system, and on Friday, he said that patients would be able to seek assistance from Comfort alongside the pier in San Juan, without going through a shoreside hospital first.
"Comfort has enabled us to see many patients," said Ronda Lacey, a Health and Human Services team lead on the island, speaking to Department of Defense media. "I am so proud of the individuals here and from the Comfort who are here to help. It is an honor and a service to be here."
In a statement, the Navy said that Lacey's sentiments are shared by many Puerto Ricans who are "happy with the level of care and treatment from the many government entities involved in the relief effort." "Everybody is real good, everybody has treated us great, it is great," resident Madeline Landarau told a Navy press officer. "I don't have words to explain it."
United Nations criticizes disaster response
On Monday, the United Nations Office of the High Commissioner on Human Rights (OHCHR) issued a report alleging the "absence of adequate emergency response" to the damage wrought by Hurricane Maria in Puerto Rico.
"Thousands of people are displaced, with homes destroyed, and without any relief in sight. More than 80 per cent of the population, or close to 2.8 million people, continue to live without electricity. Few hospitals are functioning. There are allegations that the water available – for those who have access to it – may be contaminated," wrote an independent panel of OHCHR advisers. "With winter approaching, we call for a speedy and well-resourced emergency response that prioritizes the most vulnerable and at risk."
The experts pointed out that nearly half the population of Puerto Rico were already living below the poverty line before Hurricane Maria struck, and they called for a review of the island's high debt load.
The panel's concerns were published one day after the island's electric power authority canceled a $300 million repair contract with Whitefish Energy Holdings, a relatively new utility firm from Montana that had two employees before the storm. The circumstances behind the high-value contract are reportedly under investigation by the FBI.