Hornbeck Agrees to Terms to Complete Two MPSVs After 7-Year Delay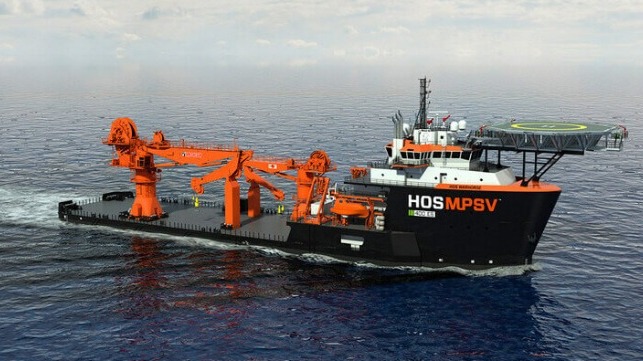 Fifteen years after Hornbeck Offshore Services ordered two multi-purpose support vessels the company finally expects to take delivery on the ships after settling a long-running legal battle. Last week, it was announced the Gulf Island Shipyards had reached terms to settle the legal dispute and now Hornbeck confirmed that it has reached terms to complete the two ships.
"When delivered, these vessels will be the two largest and, we believe, the most capable MPSVs in the U.S.-flagged Jones Act registry and will enhance our ability to support our oilfield, offshore wind, and military customers across a broad spectrum of services," said Todd Hornbeck, President and Chief Executive Officer of Hornbeck Offshore Services.
The company had ordered the vessels a decade ago as part of an ongoing expansion plan and expected they would be delivered in 2018. Gulf Island Shipyards had the vessels under construction and launched them in 2016, only to have Hornbeck announce it was terminating the contract. Hornbeck alleged in the subsequent legal action that it had identified numerous faults during the construction and decided to terminate the contract when it was informed the ships were at least a year behind schedule. Gulf Island sued Hornbeck for wrongful termination.
Under the terms of the settlement, Gulf Island is paying Zurich American Insurance Company, the issuer of the performance bonds for the MPSV contracts, a total of $20 million. They are also handing over the vessels to Zurich.
Hornbeck reports it has reached terms with the surety for the construction contract. Zurich along with Fidelity & Deposit Company of Maryland, had issued the performance bonds for the MPSV contracts.
The surety has agreed to take over the two vessels and complete their construction. Gulf Island had in the interim sold its shipbuilding business to Bollinger. Under the terms of the agreement between Hornbeck and the surety, they will mutually agree on a new shipyard to complete the work.
Hornbeck reports that its remaining contractual commitments are approximately $53 million in the aggregate for the two vessels. The surety will be responsible for all costs of construction over that amount. It is expected that the vessels will be completed in 2025.
The two ultra high-spec, Jones Act-qualified MPSVs were when they were ordered reported to be among the most capable vessels planned for the U.S.-flagged fleet. Named HOS Warhorse and HOS Wild Horse, each vessel is 365 feet in length. The vessels were to be outfitted with two large, heave-compensated cranes, two ROVs, a large moonpool, and accommodations for 102. They have been laid up by Gulf Island since the contractual dispute began in 2018 despite previous efforts by Hornbeck to gain possession of the vessels.