Horisont Energi Sets Up Receiving Port for CCS Project Near Stavanger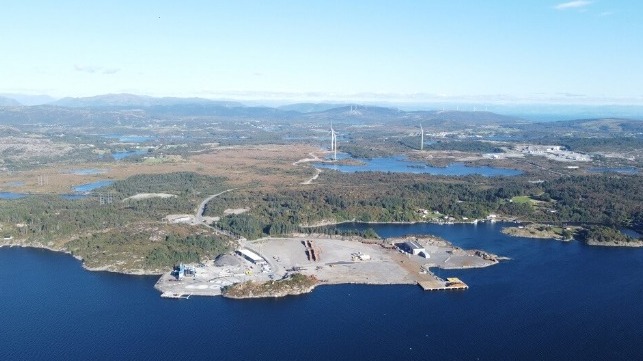 Carbon storage company Horisont Energi plans to build a CO2 receiving terminal for its Errai CCS project in Gismarvik, Rogaland, home to Norway's largest zoned industrial area.
An industrial park operated by Haugaland Næringspark will be the new receiving and intermediate storage station for CO2 from Horisont's European and Norwegian customers, including shipments from a planned CO2 terminal in the Port of Rotterdam.
From Gismarvik, just north of the offshore hub port of Stavanger, the carbon will be transferred out to an offshore reservoir for storage. The Errai project's infrastructure should be able to handle 4-8 million tonnes of CO2 per year, with potential for even more if later expansion phases are built out. Horisont Energi plans to apply for a license to operate the CO2 storage site in the North Sea early this year.
"This will be an exciting contribution to the work of developing new green industry and infrastructure in Rogaland. We see increasing demand for CO2 storage in Europe and we will build up a European value chain in the market for carbon capture and storage. This can play a key role in the transition to net zero emissions," says Bjørgulf Haukelidsæter Eidesen, Managing Director of Horisont Energi.
Horisont Energi's partner in the project is Neptune Energy, an offshore natural gas company with decades of experience in CO2 reinjection. Neptune reinjects CO2 at its K12-B gas field in the North Sea, and it is a partner with Equinor in the Snohvit field, which has reinjected CO2 since 2008.
Neptune plans to store more carbon than that emitted by the production and use of its own products, and the Errai project will be a key part of that operation. The infrastructure at Gismarvik will speed up the development process, as it already has access to fiber internet, electricity, water, and sewage, and it has a large harbor basin for receiving CO2 carriers.
European utility E.ON plans to capture and ship more than one million tonnes of CO2 per year to Ennai for storage, beginning with a ramp-up phase in 2027. "For our industrial customers in particular, CCS technology will play a key role in achieving their net zero targets," said Patrick Lammers, Member of the E.ON Board of Management, in an announcement last year.