Homeland Security Chairman Warns of Russia's Ambitions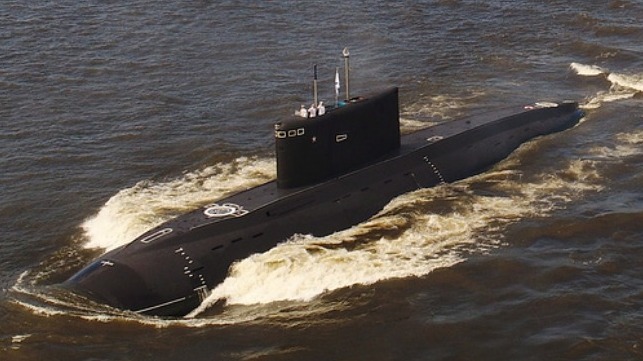 On Wednesday, in a discussion hosted by the conservative American Enterprise Institute, House Homeland Security Committee Chairman Michael McCaul (R-TX) raised concerns about Russia's growing naval capabilities and ambitions.
In addition to a discussion of Russia's information warfare activities in Ukraine, Europe and the United States, McCaul highlighted the potential threat of Russia's actions the Middle East. Russian President Vladimir Putin has secured a naval base at Tartus, Syria by supporting the regime of Bashar al-Assad, giving Russia a strategic foothold in the region. "The ports in Syria are very important to [Putin] because it gives him a submarine warfare advantage in the Mediterranean," Rep. McCaul said.
Gary J. Schmitt, an analyst for AEI, noted that American destroyers stationed at Rota, Spain are now often retasked for tracking Russia's submarines in the region, taking them off of their original mission of ballistic missile defense. "You can't do both things at once," he said..
In addition to the growing Russian presence in the Mediterranean, "for the first time since the end of the Cold War, we have now detected [Russian submarines] off the coast of the United States," McCaul said. "And they've bragged about the fact that they were able to do it without us detecting it. Why is that important? Because they carry the nuclear warheads."
McCaul described these developments - along with Russia's cyberwarfare and disinformation campaigns abroad - as motivated by a global-scale ambition. "[Putin] wants to regain the glory of the former Soviet empire and take back what's rightfully Russia's," McCaul said. "And that is Ukraine, the breadbasket of Russia. That's why he annexed Crimea . . . and he's using the same model in the Baltic States."
On the cyber front, Russia is putting the full breadth of its cyberwarfare capabilities to work in Eastern Ukraine, McCaul said, where Russian-backed forces are engaged in a low-level conflict with the Ukrainian military. This battle famously included the "Not-Petya" malware attack on Ukraine: The Trump administration alleges that the Russian government was behind the massive hack, which started at a Ukrainian software firm last June and spread worldwide. According to White House press secretary Sarah Sanders, Not-Petya "was part of the Kremlin's ongoing effort to destabilize Ukraine and demonstrates ever more clearly Russia's involvement in the ongoing conflict."
Due to its indiscriminate, viral spread, Russia's Not-Petya attack also infected non-Ukrainian targets, including IT systems at multiple business units of A.P. Moller Maersk. It halted or delayed operations at APM Terminals port facilites around the world, costing Maersk Group $250-300 million in damages - the maritime industry's largest cybersecurity breach to date.