Satellites Spot Hijacked Car Carrier at Port of Hodeidah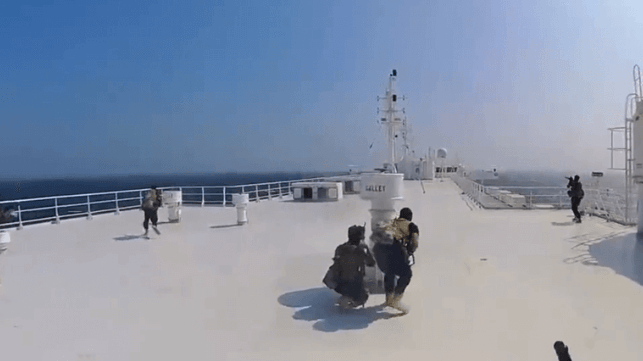 Open-source intelligence analysts say that the hijacked car carrier Galaxy Leader has reappeared at anchor off the port of Hodeidah, Yemen, based on satellite images from Tuesday morning. Vessel-tracking specialists TankerTrackers.com first reported the ship's movements in a social media post early Tuesday.
A position provided by analyst Adam Parker suggests the ship is located in the port's outer anchorage, about six nm to the north of the inner harbor. The vessel's AIS transponder has been turned off since before the attack.
The Ray Car Carriers-operated, NYK-chartered vessel was boarded and seized off Yemen by Houthi rebels on Sunday. The operator is based in the Isle of Man but is widely believed to be linked to an Israeli shipping magnate, based on business relationships revealed in the Paradise Papers leak.
The Houthi forces support Palestinian terrorist group Hamas, and claim that they attacked the vessel because of its connections to Israel.
And there she is, the vehicle carrier named GALAXY LEADER (9237307) in the anchorage of Hodeidah, Yemen this morning. She arrived yesterday. pic.twitter.com/HN3j60SNJ6

— TankerTrackers.com, Inc. (@TankerTrackers) November 21, 2023
New satellite image taken at 0731 utc this morning from @planet shows the hijacked cargo ship Galaxy Leader north of Hodeidah Port, Yemen. Location is 14.942162, 42.894605 - @TankerTrackers pic.twitter.com/mxjI3ToCOi

— Adam Parker (@adamparkr) November 21, 2023
Israel's defense ministry has denied that the ship is "Israeli," but warned Sunday that the hijacking is "a very grave incident of global consequence." Israeli Prime Minister Benjamin Netanyahu's office reports that there are 25 foreign mariners aboard, most drawn from the top seafarer-supplying countries.
Houthi militants control the majority of Yemen's populated territory, including Hodeidah. They have been locked in on-and-off conflict with Yemen's internationally-recognized, Saudi-backed government since 2014, with significant material support from the Iranian government. Western defense analysts consider the Houthi group to be an Iranian-controlled proxy force.
Iran often interferes with merchant ships connected to its geopolitical opponents, whether by ties of ownership, operatorship or cargo destination. The American Enterprise Institute calculates that Iranian forces have attacked 30 vessels (with varying degrees of severity) over the past four years. The incidents include multiple hijackings.
The governments of the UK, U.S. and Japan have called for the ship's release. If a security response is mounted to recover the vessel, policymakers would be able to draw on extensive allied military capabilities in the area, including 2,000 U.S. Marines embarked with the Bataan Amphibious Ready Group. The force is drawn from the 26th Marine Expeditionary Unit, and is designated special operations-capable and trained for hostage rescues.
Now that the ship is close in to Houthi territory, responders would have to contend with shore-based defenses. Houthi fighters are known to be equipped with Iranian drones and antiaircraft systems, and recently shot down an American unmanned aircraft over the Red Sea.
"Iran has long provided military and political support to the Houthis. We have made it clear to Iran that it bears responsibility for the actions of its proxies and partners. Iran must actively restrain these groups to prevent the conflict escalating across the region," said a UK Foreign Ministry spokesperson in a statement Tuesday.