Hapag-Lloyd Launches Biofuel-Linked CO2 Credits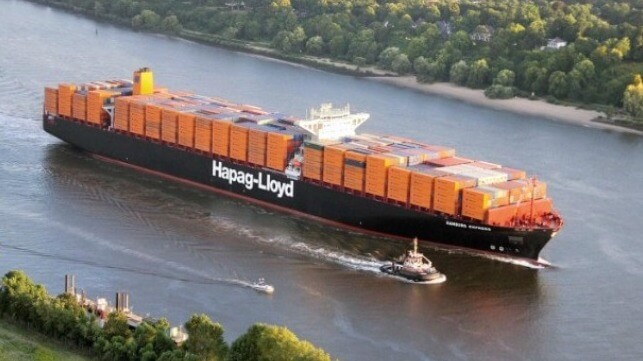 Hapag-Lloyd is following the example set by Norden to offer biofuel-linked CO2 avoidance certificates for customers who want to contribute to cutting down on emissions for their shipments.
Through 'Ship Green', a new solution for climate-friendly transportation based on biofuel, customers can contribute to cutting down on greenhouse gases (GHG) emissions by changing the fuel used in order to avoid emissions for the voyage directly and immediately, with up to 100 percent reduction.
The current common practice for carbon offsets has been based on companies buying CO2 certificates from climate protection projects, which does not directly change the customer's own emissions and relies on (sometimes controversial) certification schemes.
With Ship Green, customers can choose three different options with different levels of avoidance in carbon dioxide equivalent (CO2e) emissions. This lets customers 'book and claim' different levels of reduction - either 100 percent, 50 percent or 25 percent of their shipment's ocean-leg CO2e emissions.
The solution rests on the use of biofuel in Hapag's fleet, which produces less well-to-wake greenhouse gas emissions.Hapag-Lloyd uses biodiesel on a subset of its vessels and is currently pursuing a strategy aimed at using biomethane and hydrogen-based fuels such as green methanol and ammonia in the future. The company has also dived deep into liquefied natural gas (LNG) and from next year expects to start taking delivery of 12 containerships operating on LNG each with a capacity of over 23,500 TEU.
"At Hapag-Lloyd, we are committed to making it easier for our customers to avoid emissions and contribute to decarbonization. With our new Ship Green solution, we are offering our customers an easy and flexible way to reduce their environmental footprint and make their supply chain more sustainable," said Rolf Habben Jansen, Hapag-Lloyd CEO.
Customers who sign up to the solution will be allocated emissions avoidance results from the use of biofuel instead of conventional marine fuel oil within its fleet. This is based on the company's use of biofuel from 2nd-generation feedstock sourced from certified supply chains and produced from waste material, such as brown grease or used cooking oil.
The avoided emissions are allocated to shipments with the so-called "book and claim" approach, meaning that Hapag-Lloyd can attribute avoided CO2e emissions to all ocean-leg transports - regardless of the vessel and route used. At the end of every quarter, customers will receive an emissions avoidance declaration verifying the total emissions prevented through Ship Green in the respective period.
Currently, the Ship Green solution that is purely based on biodiesel will only be available for dry cargo, but will be expanded to other cargo types in the future.