Hapag-Lloyd Expects Dramatic Drop in Earnings as Markets Normalize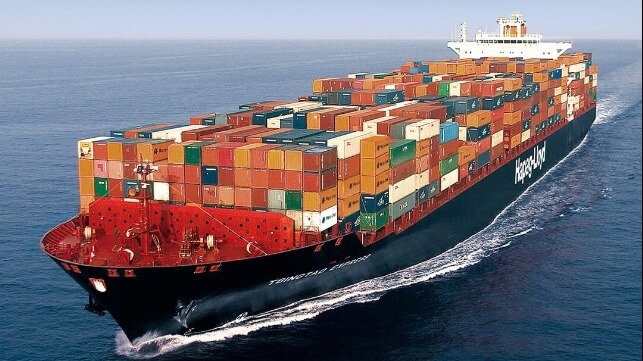 Hapag-Lloyd became the latest of the major carriers to sound a cautionary note about the outlook for the container industry in 2023 after what it said was a "very successful 2022 with exceptionally strong results." The world's fifth largest container line by capacity, Hapag cited rising costs, the economy, and geopolitical uncertainties saying that it looks for a "gradual normalization of results" in the year ahead.
"We have got the current financial year off to a decent start, but the economy has cooled and a significant decrease in earnings remains inevitable," said Rolf Habben Jansen, CEO of Hapag-Lloyd. "So, we will continue to act flexibly in the market and keep a close eye on our costs. In addition, we will be working very intensively on formulating the strategic course that we will pursue until 2030."
Detailing its expectations for 2023, Hapag detailed projections that show earnings declining by as much as 90 percent for 2023 versus last year and also significantly below 2021 levels. The carrier forecast that its earnings before interest and taxes (EBIT) would be between $2.1 and $4.3 billion in 2023 versus nearly $18.5 billion in 2022 and $11.1 billion in 2021. EBITDA similarly is expected to come in between $4.3 and $6.5 billion, which would be between 10 and 20 percent of 2022 levels.
Jansen cites the ongoing war in Ukraine as well as other geopolitical conflicts as contributing to their uncertainty for the year ahead. However, the primary issues are the impact of high inflation, rising costs, and the resulting slowing volumes and lower freight rates across the industry.
"Costs, such as fuel, charter vessels, and container handling, have risen significantly," said Jansen. The financial reports reflected an 18.5 percent increase in transport expenses or a total of $14.5 billion for 2022.
Revenues in 2022 were driven by the strong freight rates early in the year, but that declined as the year progressed. Total revenue reached $36.4 billion due to an average freight rate of $2,863 per TEU last year. Revenues were 55 percent higher than in 2021 due entirely to the freight rates. The carrier's 2022 volume was flat with 2021 at 11.8 million TEU, with the company citing the strained supply chains and port congestion as the primary factors.
The strong results helped Hapag to bolster its finances, complete acquisitions including the purchase of shipping interests in Africa, terminal expansion, and pursue its fleet expansion and modernization. This year, Hapag will begin the introduction of its new fleet of 23,500 TEU ultra-large container vessels. The new giants are LNG-fueled and Hapag announced a new collaboration with Shell for the supply of LNG as well as to collaborate on new alternative fuel development including liquefied biomethane and the hydrogen-based fuel liquefied e-methane.
Jansen remains positive on the longer-term outlook for the industry. During a press briefing, he referenced new market opportunities such as India. He cited the relatively lower levels of containerization in the Indian market and its faster-than-average growth.
Hapag currently has a fleet of 251 containerships with a total carry capacity of 1.8 million TEU. They operate 119 liner services reaching more than 600 ports.