Gulf Oil Industry Prepares for Hurricane Harvey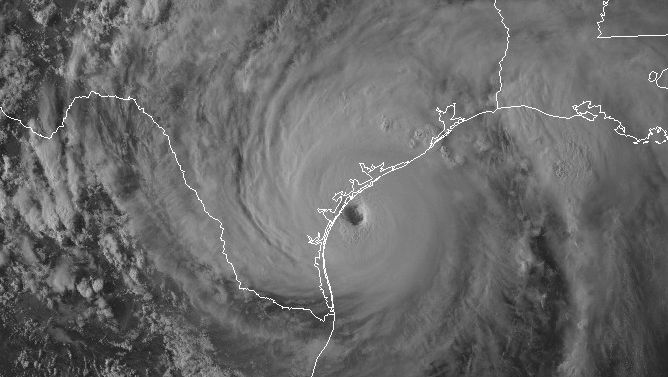 Hurricane Harvey is approaching the Texas coastline, with Category 4 wind speeds exceeding 110 knots and wave heights of 22-28 feet in near-coastal waters. According to data compiled by the Bureau of Safety and Environmental Enforcement (BSEE), offshore operators have evacuated hundreds of workers and shut in about one fifth of the Gulf's oil and gas production in anticipation of severe storm conditions. 86 platforms and four moored rigs have been evacuated, and one DP rig has been relocated as a precaution.
In addition to the hazards posed by wind and waves offshore, the hurricane's storm surge is expected to inundate large areas near Corpus Christi, Galveston and Houston, threatening an area that is home to about a third of America's refining infrastructure. As of Friday afternoon, the National Hurricane Center surge prediction map showed a risk of inundation for at least one petroleum facility, a tank farm and barge loading terminal at ExxonMobil's massive Baytown complex. Limited areas along the busy Houston Ship Channel – the heart of American petroleum shipping – are at risk of flooding of up to three feet above ground level.
Updated #GOES16 30-sec loop closeup of Hurricane #Harvey - just ridiculous. Stay safe everyone. Data preliminary and non-operational pic.twitter.com/xVY9NZHLuR

— Dan Lindsey (@DanLindsey77) August 25, 2017
Multiple refiners have begun shutting down their operations in advance of the storm's arrival. Sources at Venezuelan-owned petroleum firm Citgo said Thursday that it would be shutting its massive Corpus Christi refinery. In addition, Valero is shutting down its facilities at Corpus Christi and Three Rivers; Flint Hills Resources is shutting its Corpus Christi facility; LyondellBasell is shutting four petrochemical facilities across the region; Dow is closing its Seadrift petchem plant; Marathon is slowing operations at its Galveston refinery; OxyChem has shut its petchem plant in Ingleside; and Phillips 66 has closed an export terminal at Freeport. Invista and Formosa Plastics have also announced shutdowns. Analysts say that depending on the severity of the storm and the flooding, refiners could take weeks to bring their output back up to normal levels.
The Coast Guard has set port condition Yankee for all of Sector Houston-Galveston, implementing several limits on commercial operations, including a ban on inbound vessel traffic and a departure order for ships at three anchorage areas. Port of Corpus Christi is also closed to inbound traffic.
Galveston is the fourth-busiest cruise homeport in the U.S., and it is home to several vessels operated by Carnival. The port said Friday that Carnival Cruise Line has rerouted the vessels Carnival Freedom and Carnival Valor from Galveston to New Orleans due to the inbound traffic closure. Carnival is also holding the Carnival Breeze for an additional night in Cozumel, Mexico, to delay its return to Galveston until Sunday.