Guardia Costiera Rescues Multiple Survivors From Flooding in Ravenna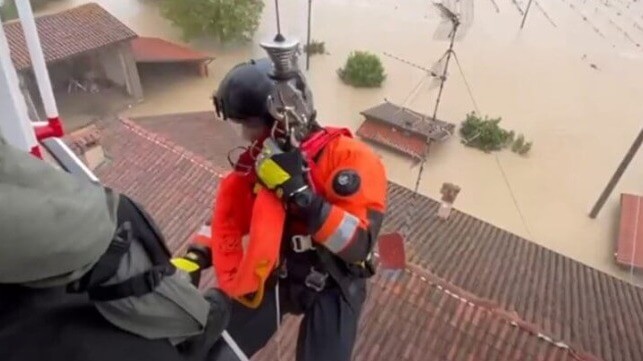 Italy's coast guard has been hard at work responding to severe flooding in the country's northeastern Emilia Romagna region, near Ravenna.
After a monthslong drought, a massive storm dumped up to 20 inches of rain in less than two days this week. Nearly two dozen swollen rivers jumped their banks in Ravenna, Bologna, Faenza and surrounding areas. At least nine people have been killed by flooding and mudslides, and an unknown number are missing. According to regional president Stefano Bonaccini, a flood of equivalent scale has "never been registered before" in Emilia Romagna.
As of Wednesday, heavy rains were still falling. 13,000 people have been evacuated from the region as a precautionary measure, including dozens who were rescued by firefighters and other first responders, like the Guardia Costiera's aircrews and small boat crews.
In Ravenna, the Guardia Costiera rescued a pregnant woman from a flooded apartment complex by helicopter, one of nine rescue hoists conducted Wednesday morning. In Faenza, another helicopter aircrew rescued an elderly couple from the roof of their home (below).
I mezzi aerei #GuardiaCostiera continuano ad operare per @DPCgov nell'entroterra ravennate. Queste le immagini del complesso intervento del #Nemo12 che ha recuperato una donna in stato di gravidanza. Da questa mattina 9 le persone tratte in salvo dall'alto dall'elicottero GC pic.twitter.com/JtMkbrboau

— Guardia Costiera (@guardiacostiera) May 17, 2023
Emergenza maltempo in #EmiliaRomagna la #GuardiaCostiera ???????? in campo per il @DPCgov con battelli, elicotteri e nuclei subacquei
Questa mattina, a #Faenza, l'equipaggio dell'elicottero #Nemo12 ha tratto in salvo due anziani rifugiati sul tetto di una abitazione. #AllertaMeteoER pic.twitter.com/R21avUjGKe

— Guardia Costiera (@guardiacostiera) May 17, 2023
Emilia Romagna would have been host to a Grand Prix race this coming weekend, but the flooding has forced organizers to cancel the event for safety reasons. In a statement, Formula 1 said that cancellation "is the right and responsible thing to do given the situation faced by the towns and cities in the region."
Attributing this storm (or any individual storm) to climate change is difficult, but 2022 was the hottest year on record in Italy, and warming temperatures are associated with extreme drought and heavy precipitation events. The Marche region was hit by heavy flooding last September after the worst drought in 150 years, and rising waters and landslides caused 12 fatalities and millions in damages.