Greenpeace Critical of Increasing Antarctic Krill Fishing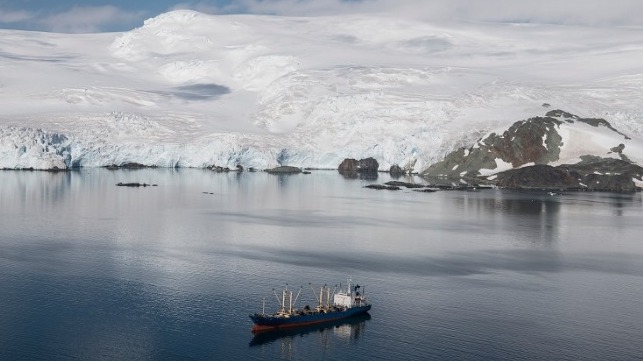 Greenpeace says that the krill fishing industry is not the well-managed fishery that it claims to be. The organization has tracked the activities of the krill fishing industry in the Antarctic over the last five years and highlights a number of practices that it says threatens Antarctic food webs.
Krill, tiny shrimp-like animals are eaten by everything from blue whales to Adélie penguins. They are used in products such as krill oil and Omega-3 tablets, as well as fishmeal for farmed fish and pet food.
The Greenpeace report Licence to Krill indicates that intensive fishing taking place in the immediate vicinity of feeding grounds of Antarctic wildlife such as whales and penguins is creating direct competition for food. The Greenpeace investigation analyzed AIS data for krill trawlers, reefers and tanker vessels over a period of five years (2012–2017). This tracking data suggests vessels have anchored close to specially protected areas despite the potential impact on wildlife and the seafloor and that krill fishing is taking place in areas that have been put forward as ocean sanctuaries.
The report also suggests that risky fishing practices such as transhipment (transfer of catch) to huge reefers with long lists of previous infringements is taking place. Transhipment globally has often been linked to environmental and labor rights abuses due to the lack of transparency it affords.
Since 2010, the krill-fishing industry has grown steadily, with the entry of Norwegian companies and fishing boats, increased catches by South Korean vessels, and the emergence of the Chinese krill-fishing fleet.
Fishing for Antarctic krill is permitted in the Antarctic Ocean under the management of the Commission for the Conservation of Antarctic Marine Living Resources (CCAMLR). The fishery is often referred to as the best-managed in the world and is focused on the northern tip of the Antarctic Peninsula, the South Orkneys and the Bransfield Strait.
Greenpeace is calling for krill-fishing companies to restrict all fishing activity in areas under consideration as ocean sanctuaries. The organization is also calling on krill-buying companies to stop sourcing from vessels that continue to fish in these areas.
In 2006, the Pacific Fishery Management Council in California voted for a complete ban on commercial krill fishing off the west coast of the U.S., citing the "importance of krill to the marine food chain."
The release of the report comes during a three-month Greenpeace expedition to the Antarctic. The expedition is raising awareness of the need for ocean sanctuaries in the Antarctic, including a 1.8 million square kilometer Antarctic Ocean Sanctuary in the Weddell Sea. Greenpeace is also supporting proposals for protection of the Antarctic Peninsula and elsewhere, as part of a campaign to create a network of ocean sanctuaries covering at least 30 percent of the world's oceans by 2030.