Golden Ray Salvage Prepares for Final Phase as Lift Vessel Transits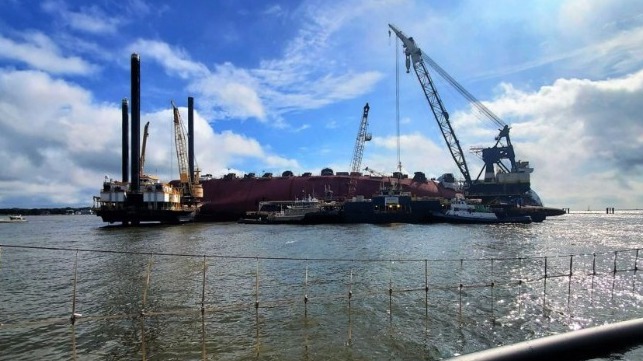 The final phase of the salvage effort of the capsized ro-ro vessel Golden Ray is preparing to get underway based on updates from the St. Simons Sound Incident Unified Command. The efforts had been delayed due to some unexpected engineering challenges, postponements over the summer due to hurricane concerns, and COVID-19 precautions.
According to the command overseeing the operation, the heavy-lift vessel VB10,000 is expected to arrive in St. Simons Sound as soon as October 27, weather permitting. The U.S. flagged vessel has been in the Port of Fernandina, Florida since early July. It was undergoing modifications before shifting to the salvage site.
The heavy-lift vessel will undertake the final phase of the operation. It will be used to cut the Golden Ray into eight sections. The sections will be lifted and loaded on barges and moved away for recycling. The entire operation is to be undertaken inside the Environmental Protection Barrier (EPB) erected around the site. The vessel's crew is sequestered in a health safety "bubble" to mitigate coronavirus exposure and ensure responder safety during removal operations.
Transit of the lift vessel to St. Simons Sound had been delayed in early October when the engineers encountered an engineering issue. The VB10,000 is designed to be secured at the site on five anchors. After successfully installing and pull-testing four anchors, the remaining anchor, which is at what the command termed the most challenging mooring site in the system, did not meet its pull-test requirements.
Anchor mooring pull tests in late September - St. Simons Sound Incident photo
After reviewing the options, the engineers determined to install three pilings to complete the anchor array for the VB10,000 heavy-lift vessel. The pilings will be used to secure the VB10,000 in place during cutting operations. Pile driving was due to begin on October 18, and once the first piling was installed the vessel was due to transit to the location.
"The arrival of the VB10,000 has been highly anticipated. It's a very capable asset implementing the latest in heavy-lifting technology for marine environments," said Cmdr. Efren Lopez, Federal On-Scene Coordinator. "The vessel is a critical component to our removal plan that ensures the safety of our responders and the public as we move forward and remove the Golden Ray."
The command did not announce a timeline for when they anticipated the cutting and lifting operations would begin. Previously, they reported that the cutting and lifting operations were anticipated to last for eight weeks from the onset barring any unforeseen obstacles.