Georgia Ports Authority Approves $92 Million Rail Expansion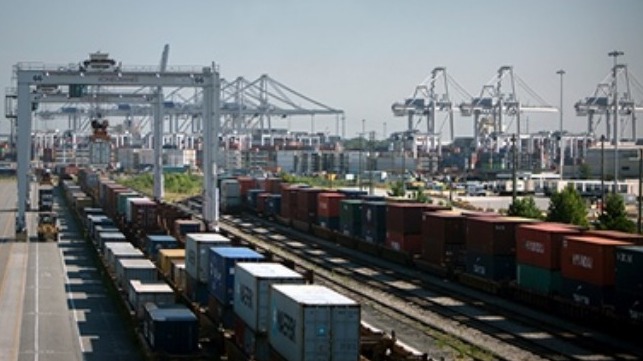 The Georgia Ports Authority (GPA) Board of Directors has approved $92 million for expansion of its rail infrastructure. The Mason Mega Rail Terminal will double the Port of Savannah's annual rail capacity to one million containers and be the largest on-terminal rail facility in North America by 2020.
The project includes 124,000 feet of new track, 88 automated switches and rail control devices, as well as the rail and power infrastructure to support the operation of rail-mounted gantry cranes. The added rail capacity will better accommodate 10,000-foot long unit trains on Garden City Terminal. These more cost-effective trains will provide faster, more frequent service over greater distances.
This will extend the territory served by the Port of Savannah along an arc of cities ranging from Memphis to St. Louis, Chicago and Cincinnati.
GPA moved 375,833 TEUs in August, an eight percent increase over August 2017. In addition, the GPA handled 86,200 intermodal TEUs, a 33 percent jump.
In August, rail cargo to and from Atlanta increased by 34 percent, while Nashville saw an increase of 72 percent.
Also in August, GPA opened its Appalachian Regional Port - an inland terminal for the Port of Savannah. Located in Murray County, the new facility provides logistics solutions for customers in a four-state region via intermodal rail services from CSX. It is sited on 42 acres adjacent to U.S. 411 and features easy access to Interstate 75.
Operation of the terminal is anticipated to remove an estimated 50,000 trucks and 15 million truck miles from local highways every year. Handling both import and export containers, CSX will provide service on a direct, 388-mile rail route to and from the Port of Savannah's Garden City Terminal. The new rail terminal will be worked by three electric rubber-tired gantry cranes. Each has a lift capacity greater than 40 tons and, working together, can handle 100,000 container lifts per year.
Greater capacity, via 14,000-TEU vessels transiting the Panama Canal, is boosting business for Savannah and driving an increase in rail moves to markets such as Memphis and Nashville.