Generators on HMS Prince of Wales Fired Up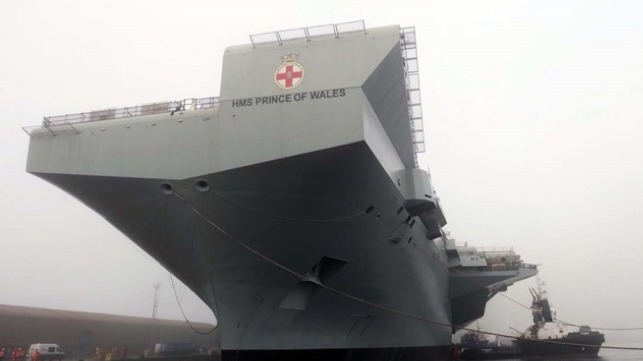 The diesel generators on the U.K.'s second new aircraft carrier HMS Prince of Wales have been fired up for the first time.
Engineers turned on the four Wärtsilä diesel generators this week. Each is capable of producing more than 11 Megawatts of power… enough to support a town of 25,000 people. Collectively, these four diesels generate 40 percent of the total power produced by the carrier. The Rolls-Royce MT30 main gas turbine engines which drive the ship through the water account for the rest, but they have yet to be switched on. When they are, each can meet the electricity needs of Burnley or Guildford.
The prime movers selected for the generating sets are two 12-cylinder and two 16-cylinder Wärtsilä 38 engines for each aircraft carrier. They will supply 40MW of the total installed power of over 100MW.
The 65,000-ton HMS Prince of Wales, being fitted out at Rosyth dockyard near Edinburgh, is expected to be operational in the second half of next year.
In September, Commodore Stephen Moorhouse took command of the HMS Prince of Wales. He will assume the local rank of captain while in command, just as his counterpart Commodore Jerry Kyd did on board the first of the Navy's new carriers, HMS Queen Elizabeth.
Moorhouse originally joined the Royal Navy as a specialist in Airborne Early Warning, serving as an Observer with 849 Naval Air Squadron, primarily on board the previous generation carrier HMS Illustrious, and flying in environments from the southern Indian Ocean to the Baltic. Moorhouse has previously commanded Offshore Patrol Vessel HMS Severn in waters around the U.K. coastline and her sister ship HMS Clyde in the South Atlantic, Type 23 frigate HMS Lancaster and helicopter assault ship HMS Ocean. Most recently, he led CTF150, a multinational Combined Task Force that keeps the shipping lanes safe across the Western Indian Ocean.
The new Queen Elizabeth-class carriers will give the U.K. the ability to project military power more than 700 nautical miles, over land as well as sea, from anywhere in the world. The HMS Queen Elizabeth and HMS Prince of Wales will be the largest warships ever built in the U.K. and the most capable aircraft carriers outside of the U.S. Navy.