General Cargo Ship with Troubled History Grounds on Reef off Belize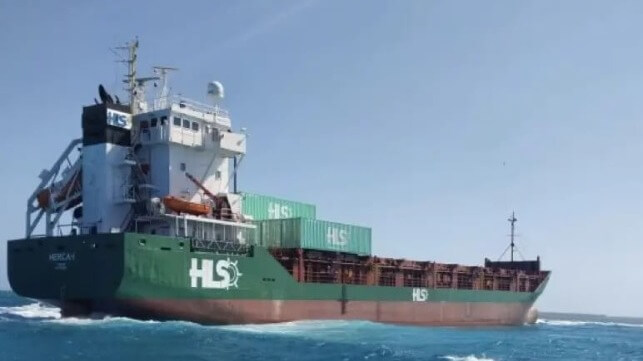 Update: The Belize Port Authority reports the grounded vessel was refloated after several attempts. The vessel remains detained while the investigation is ongoing and a survey of the reef by the Department of the Environment.
Officials in Belize are detaining a general cargo ship after it went aground in a sensitive marine area while they work to determine the extent of damage suffered on the reef. The detention has begun while the vessel which has a long history of deficient inspections remains lodged on the reef in a key shipping channel off the coast near Belize City.
The vessel which was sold last year and renamed Herca-1 was sailing through the shipping channel west of Belize's Central Lagoon, a chain of small cayes popular for diving and fishing as well as private islands. Built in 1999 and currently registered in Panama, the 322-foot general cargo ship had departed Puerto Cortes in Honduras on March 25 bound for Port Everglades, Florida. The Belize Port Authority is reporting that the vessel is carrying containers and break-bulk cargo when it experienced a mechanical failure at around 0400 local time on March 26. It grounded on the reef east of Drowned Cayes.
The ship is believed to be undamaged and the 13 crewmembers aboard are reported to be safe. They are cooperating with Belizean authorities which have launched an investigation. Under the supervision of the Department of the Environment, the Belize Port Authority, and the Belize Coast Guard, a salvage operation is being planned.
(Belize Port Authority)
The vessel was previously detained in Belfast, Northern Ireland on November 13, 2022, with the incident lasting 25 according to the Equasis database. The UK's Maritime and Coastguard Agency (MCA) recorded 13 deficiencies found during the first inspection after the vessel was sold including a crack in the hull which they deemed made the vessel unseaworthy. There were also issues with the lifeboat and life raft, electrical equipment, fire safety and emergency systems, none of which were grounds for detention, as well as issues with its certification which was a second ground for detention. The MCA reports the vessel was released on December 8.
Under her prior name, Jolanta, and registered in Cyprus, Equasis shows a long list of inspections with deficiencies but no prior detentions. For 17 consecutive inspections dating back to 2012, deficiencies were identified during each inspection, as well as previous ones in 2011 and before.
Once the vessel is dislodged, the Belize Port Authority says it will continue to be detained while they complete the investigation and a damage assessment. The full extent of the impact on the reef can not be ascertained until the ship has been removed.