TurkStream Line 1 Pipelay Complete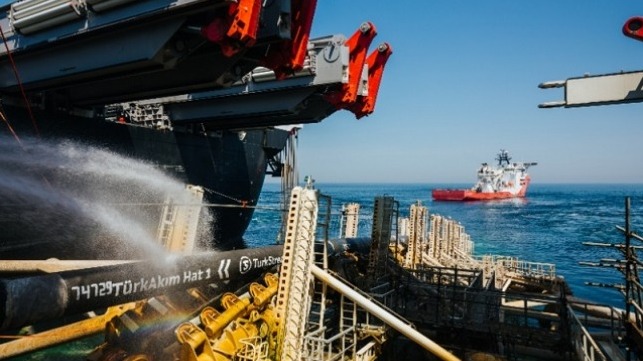 The deepwater pipelay for Line 1 of the TurkStream offshore gas pipeline was completed on April 30.
The TurkStream project will see a gas pipeline stretching across the Black Sea from Russia to Turkey and further to Turkey's border with neighboring countries. The first line of the gas pipeline is intended for the Turkish consumers, while the second line is designated for the Southern and South-Eastern Europe. Each line will have the throughput capacity of 15.75 billion cubic meters of gas per year. South Stream Transport B.V., a wholly-owned subsidiary of Gazprom PJSC, is responsible for the construction of the gas pipeline's offshore section that started in May 2017.
Pipe was laid from Pioneering Spirit at an average speed of 4.3 kilometers (2.7 miles) per day. The maximum pipelaying speed of 5.6 kilometers (3.5 miles) per day was achieved twice in February. 1,161 kilometers (721 miles) of pipe have been laid, over 60 percent of the total pipeline.
The onshore facilities in Turkey and Russia are being built simultaneously with the Black Sea pipelaying. Pioneering Spirit will continue the deepwater pipelay of Line 2 in the third quarter of 2018.
Turkey is Gazprom's second largest export market. Currently, Russian gas is delivered to Turkey via the Blue Stream gas pipeline and the Transbalkan Corridor. In 2017, Gazprom supplied the record 29 bcm of gas to the Turkish market. This is 4.3 bcm (17.3 percent) more than in 2016 and 1.7 bcm (6.2 percent) more than in 2014, when the previous maximum of 27.3 bcm was achieved.