GAO: U.S. Navy "Will Take Years" to Improve Readiness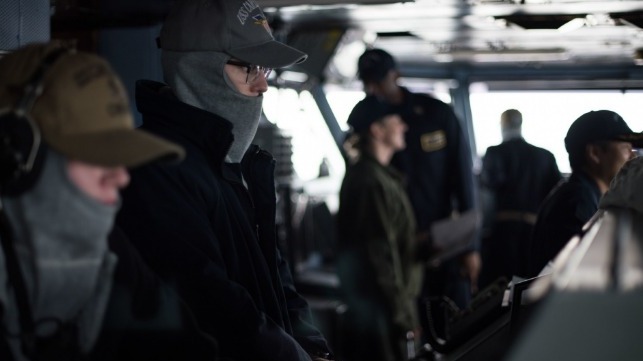 The Government Accountability Office has completed a review of the U.S. Navy's recent efforts to improve readiness, and it foresees that corrective action "will take years to implement."
Since the two deadly collisions involving the destroyers USS John S. McCain and USS Fitzgerald in 2017, the Navy has begun to overhaul its crewing policies and training programs in an attempt to address shortcomings. However, GAO reports that manning shortfalls and experience gaps continue to contribute to high sailor workload, and are likely to continue through at least 2021.
In the wake of the twin casualties last year, the Navy conducted two internal reviews and identified more than 100 separate actions to take in order to improve readiness in the surface fleet. So far, it has implemented about 70 percent of these recommendations, and GAO asserts that the service "continues to struggle" to rebuild readiness - a potential hurdle to the Navy's plans to expand its active fleet by 25 percent.
Both the McCain and the Fitzgerald were attached to the Japan-based 7th Fleet, and GAO testified in 2017 that it had found significant training and operational certification shortfalls in this busy overseas command. Based on GAO's analysis of current data, the Navy has improved the percentage of warships with lapsed certifications in Japan, from 41 percent of vessels with certifications expired in September 2017 to 9 percent as of November 2018. As of November, less than 3 percent of certifications had expired on 7th Fleet ships in operational status.
Manning shortfalls
Further fleet-wide challenges include "outdated standards" for shipboard manning levels, leading to overburdened crews and long hours. "Until manpower requirements are reassessed across the fleet, the Navy risks that ship crews will continue to be undersized and sailors will be overworked with potential negative effects on readiness and safety," GAO found.
For now, the Navy is priorizing manning on its overseas-homeported ships. While official numbers on manning have improved, GAO heard from Japan-based sailors in group interviews that ship workload has not decreased, and it is still difficult to complete the workload while getting enough sleep. The Navy expects that manning challenges will continue through at least 2021 as the Navy builds up its head count and trains its new sailors.
Maintenance issues
As previously reported, insufficient maintenance capacity continues to plague the Navy's surface and submarine units, GAO found: only a quarter of scheduled maintenance availabilities for warships were completed on time from 2011-2014. These figures have not improved in the intervening years, and GAO calculated that surface ships, subs and carriers across the fleet were unavailable for a total of 74 ship-years between 2012-2018 due to maintenance delays. The daily count of delayed ships has risen steadily over the same period, and roughly one quarter of the total occured during FY2018 alone.
According to GAO, the delays at Navy-run yards are attributable in part to outdated and limited equipment, which renders operations less efficient. The service has a $21 billion, 20-year plan to correct these deficiencies, but even if funding from Congress is secured, the improvements will only appear in the long term. In addition, these yards face workforce and training challenges, which the Navy is attempting to address with retention incentives and training programs.
GAO has previously recommended that the Navy re-evaluate its policy for allocating work to private and public yards. In an update in November, the Navy told GAO that they plan to schedule two additional depot maintenance periods at private shipyards in the future.
Comparable shortfalls affect the Navy and Marine Corps aviation community. Depot maintenance for the Navy's aging F/A-18 fighters and Marines' AV-8B Harriers has grown increasingly complex as airframe hours add up, long-lived components wear out and parts availability declines, and aircraft availability has declined below target levels. Aviation depots also face the same manning and experience-level shortfalls as the public shipyards.