Galveston Invests $53 Million in Cruise Terminal for Carnival Jubilee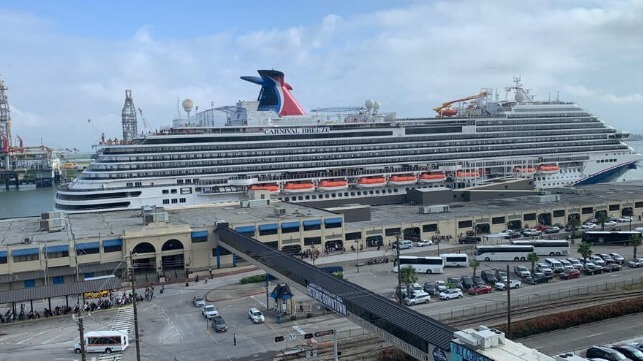 The Port of Galveston, Texas is spending $53 million for a major expansion at Cruise Terminal 25 to accommodate Carnival Cruise Line's Carnival Jubilee, due to enter service from the port in December. The investment is part of the port's master plan for the long-term growth of cruise operations but also highlights the challenges for ports with newer and larger cruise ships.
With a maximum capacity of nearly 6,500 passengers, Carnival Jubilee's capacity is larger 30 percent than the Carnival ships currently sailing from Galveston. The new ship will be approximately 180,000 gross tons with a length of 1,130 feet compared to the port which currently is homeport to the Carnival Breeze, Carnival Dream, and Carnival Vista. Similar in design, those ships are approximately 130,000 gross tons with a length of 1,055 feet and a maximum passenger capacity of just under 5,000 passengers.
"Carnival was the first major cruise line to homeport in Galveston more than 20 years ago. They believed in us then and believe in Galveston's growing prominence as a top cruise port today," said Rodger Rees, Galveston Wharves port director and CEO. "We're looking forward to welcoming the beautiful new Carnival Jubilee to our improved cruise terminal."
Among the upgrades planned are improvements to accommodate the ship, move guests efficiently during debarkation and embarkation, and update the two-decade-old terminal, Rees said. Construction will include gangway modifications, a ramp, two elevators and an escalator, as well as a new roof. The port also will make mandated improvements to facilities used by U.S. Customs and Border Protection, which provides essential safety and security services at the terminal. There was no mention if any additional requirements are related to the ship's use of LNG as its primary fuel.
Rees said that the improvements are a long-term investment in the port's future growth. The port generates two-thirds of its revenues from its cruise business. The cruise terminal expansion will be funded with cash reserves, a proposed bond issue, and an agreement with Carnival. Previously, Galveston reported that it was working to issue $100 million in bonds to help fund much-needed, time-sensitive projects, including expansion of the West Port Cargo Complex, major improvements to the Pier 25 cruise terminal, and construction of a proposed fourth cruise terminal at Pier 16. They reported that the bonds could also be leveraged with millions of dollars in grants, private-sector funds, and the port's operational reserves.
Galveston is working to support its growth as the fourth-largest cruise port in the U.S., the largest outside Florida, and the only home port in Texas. The port is on track to set new records in 2023 as the result of more people cruising, new and larger ships sailing from Galveston and the opening of a third cruise terminal in late 2022. Both Carnival Cruise Line and Royal Caribbean International homeport ships year-round in Galveston, while Disney Cruise Line, Norwegian Cruise Line, and Princess Cruises, have seasonal sailings from Galveston and MSC Cruises is expected to announce a new homeport agreement with Galveston.
For 2023, Galveston is estimating 355 sailings, a new record in the port's 22-year history as a cruise homeport. Port executives expect they will break their previous record of more than 1 million cruise passengers last year.