Freighter and Boxship Collide Off Denmark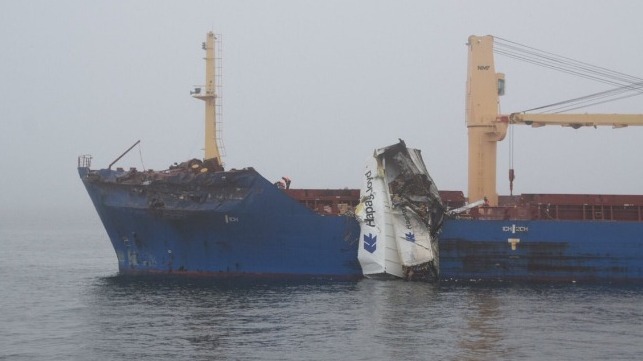 On Tuesday, the 25,000 dwt container ship Delphis Gdansk and the 37,000 dwt freighter BBC Neptune collided in the Great Belt near Kalundborg, Denmark. Government response vessels and aircraft are on scene, according to Danish Defense (Forsvaret), and no injuries or pollution were reported.
As of Wednesday, the two ships were out of the main shipping lane and the situation was under control. Salvors are working to recover lost containers from the water to ensure safety of navigation.
AIS data published by VesselFinder appear to show that the Gdansk and Neptune were on reciprocal courses in the minutes leading up to the collision. In a complex interaction between three vessels, the Gdansk appears to have turned to pass ahead of another ship, the bulker Western Boheme, then altered course and turned to pass down the Boheme's port side instead. The BBC Neptune was close behind the Boheme's starboard quarter, and she appears to have altered course to port as the Gdansk turned to pass the Boheme.
Photos from the scene appear to show an anchor chain embedded in the Gdansk's port side amidships and the Neptune's starboard side anchor missing. Crumpled containers rest on the Neptune's starboard side towards the bow. The cause of the accident is under investigation.