Foss to Remove Grounded Vessel From Reef Off Waikiki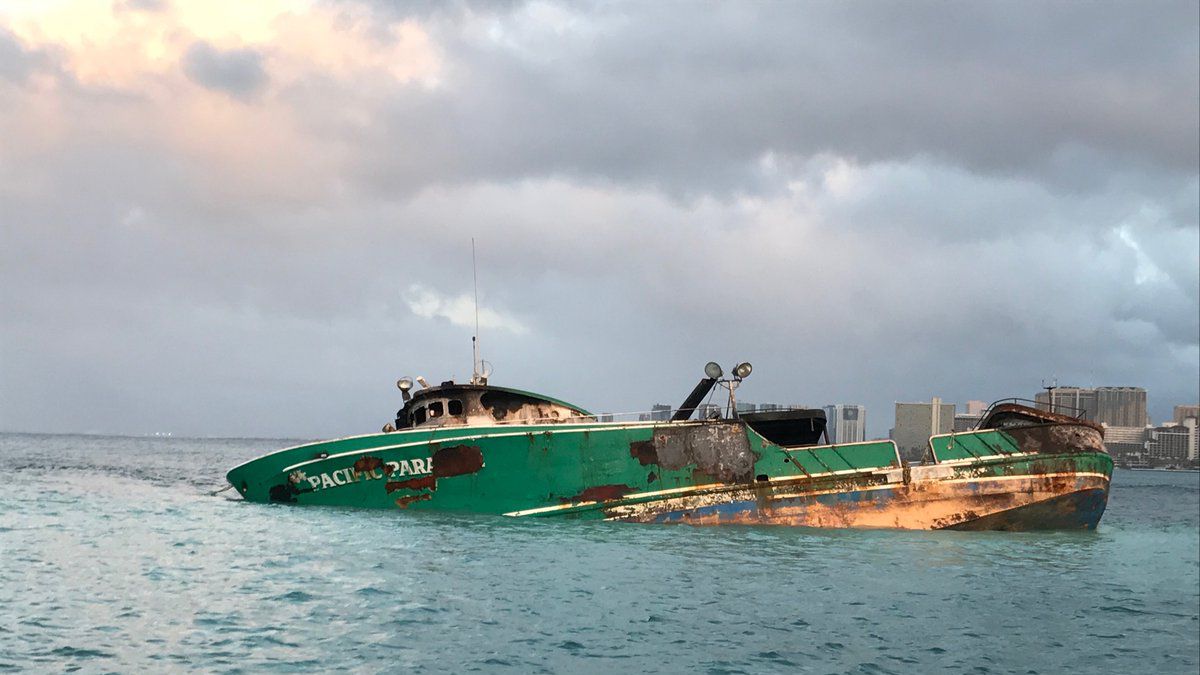 The owners of the grounded longliner Pacific Paradise have hired Seattle-based firm Foss Maritime to remove the stricken boat from a reef off Waikiki, Hawaii.
The Paradise went aground about 400 yards off one of the world's best-known tourist destinations on the night of October 10, and multiple refloat attempts by commercial salvage companies have failed to dislodge her from the reef. The previous group of salvors encountered poor luck last Saturday when their gasoline-powered dewatering pump caught its own fuel supply on fire, igniting a blaze that forced them to abandon ship. The Honolulu Fire Department used a helicopter with a firefighting bucket to douse the vessel's decks and slow the fire, but the vessel continued to burn through the weekend, according to USCG Cmdr. Patric Gallagher.
"We are thankful that no injuries were sustained and are anxious to move the vessel away from the reef so it will not cause damage or injury to people or marine life," said Michael MacDonald, director of Foss Marine Operations & Commercial - Hawaii Region. "We are preparing to safely move the vessel away from this environmentally sensitive area."
Questions surround Pacific Paradise's crew
The Pacific Paradise is a U.S.-flagged longliner, but the master was the only American national on board: the 19 other individuals on board hailed from Kiribati, Indonesia, the Philippines and Vietnam – not unusual for a Hawaiian commercial fishing vessel. Some operators in Hawaii's commercial fleet employ foreign workers at wages of as little as 70 cents per hour, according to a 2016 investigation by the Associated Press – legally, thanks to a loophole in the law.

"We don't know who they were, where they are — at least I don't know — and it raises the question of, 'Is this a human trafficking situation or something else that we need to deal with more aggressively,'" Bruce Anderson, administrator at state Division of Aquatic Resources Administrator, speaking to Hawaii News Now.
Anderson isn't the only one concerned. Hawaii state representative Kaniela Ing said that 15 of the 20 men aboard the vesssel did not have registered fishing licenses. "The issue isn't whether or not there's evidence that they're being trafficked, it's that there's no evidence to the contrary," Ing told the Morning Journal. "There's nothing saying these folks are here legally and aren't being exploited because there's no record."