Florida Begins to Recover After Hurricane Irma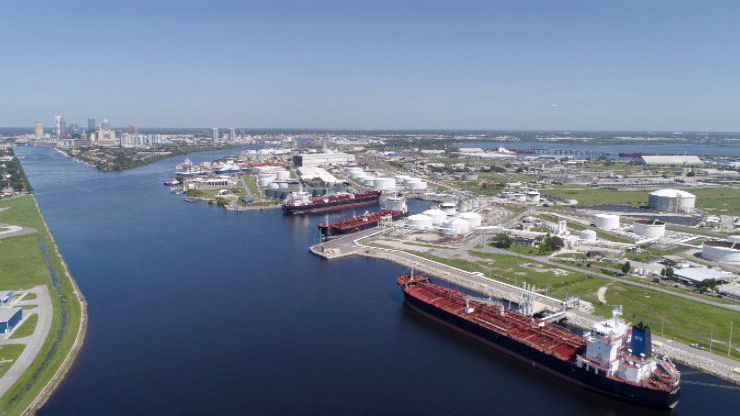 Florida and many of the Caribbean islands have a long road ahead as they begin to recover from Hurricane Irma. But on the mainland at least, signs of normalcy are beginning to return: ports are reopening, power is being restored and fuel distributors are working to address gas shortages.
At Jaxport, the port of Jacksonville, the Coast Guard has finally reopened the port to all commercial traffic. Until Wednesday morning, traffic on the St. Johns River had been restricted to shallow draft vessels under 500 gross tons. The opening will allow the port to resume its normal operations.
At PortMiami, all marine operations have resumed and all terminals are functioning. The port advised cruise passengers to check their individual itineraries with their cruise line, as disruption from the storm has forced operators to alter voyage plans in the Caribbean.
Port Everglades is open, and ten of twelve petroleum companies that maintain terminals at the port are fully operational. Two remain closed as they work to resolve issues with water intrusion. Trucks have been delivering fuel from the terminals' storm reserves since Monday, and the port is now receiving a combined 35 million gallons of fuel (diesel, jet fuel and gasoline) from three product tankers. Two more are scheduled to arrive Wednesday night and Thursday morning. The port is also receiving cruise ships once more.
Port Tampa Bay has also reopened to traffic, and four tankers were unloading at its petroleum terminals on Wednesday. The port said in an update that seven more are on the way.
Port Canaveral says that it continues to make progress towards regaining full operating capability, but its water and electrical supplies are degraded and the condition of its waterways is not yet fully known. The Coast Guard has limited the port to authorized traffic only while inspections continue.
"Returning the Port to normal operations has been hampered by the loss of power and failure of the City of Cocoa water system which supplies the Port. While we continue to make significant progress, public safety is a top concern for all of us," said Port CEO Capt. John Murray. (The power loss is not unique to Port Canaveral: 3.8 million Florida residents still lack electricity, a problem that will persist into next week in some areas.)
Despite the limitations, Port Canaveral received two cruise ships on Wednesday, and its terminals handled a combined 14,000 passengers. The port has also received one fuel tanker and has two more on the way.
The swift reopening of the state's petroleum ports will go a long way towards alleviating the state's widespread fuel shortages. The Energy Information Administration said Wednesday that the fuel pinch was two-sided: as Hurricane Irma approached, shipping traffic was diverted and ports closed, stopping the flow of petroleum products into Florida. The state is almost entirely supplied by seaborne shipments of petroleum products, mostly from Gulf Coast refiners.
At the same time that ports shut down, residents filled their gas tanks in anticipation of the storm, resulting in an increase in demand. In Hurricane Irma's aftermath, demand is slowly returning to normal, allowing time for the supply chain to adjust, DOE said. However, local media in Atlanta – where many Floridians headed before the storm – report that gas stations there are running low as evacuees fill up for their return trip. Many Florida residents say that they will wait to make the return trip, as they fear that the cascade of motorists will deplete supplies along major freeways. The concern appears to be real: in Jacksonville, Gainsville and Tallahassee, about half of gas stations still have no fuel, according to the Miami Herald.
Navy relief efforts ramp up
The Florida Keys were hit hard by the storm, and the U.S. Navy has deployed multiple surface combatants to assist. The amphibious assault ship USS Iwo Jima, the amphibious transport dock ship USS New York and the guided-missile cruiser USS San Jacinto arrived off Key West on Tuesday. They join the carrier USS Abraham Lincoln, which arrived earlier in the week to spearhead the relief effort.
"For me, it truly shows that we are making a difference," said Aviation Support Equipment Technician 1st Class Cory Chevalier, who was once stationed at NAS Key West. "There are still people living there I met while stationed there and to provide assistance to those I care about personally is something I will never forget."
To evaluate the damage to its own assets in Key West, the Navy has dispatched a Contingency Engineering Response Team (CERT) from NAS Jacksonville. The service says that NAS Key West was the hardest-hit of its facilities in Florida.
The team includes structural, electrical, and mechanical engineers, architects, roofing specialists, community planners and construction contract specialists. One of them – Ensign Derick Schmitz, PWD Jacksonville Construction Manager and Civil Engineer Corps Officer – just arrived from the Hurricane Harvey relief effort, and he expects that the experience he gained in Texas will apply well to conditions in the Florida Keys.