Floating Engine Room Squeezed Through Kiel Canal Locks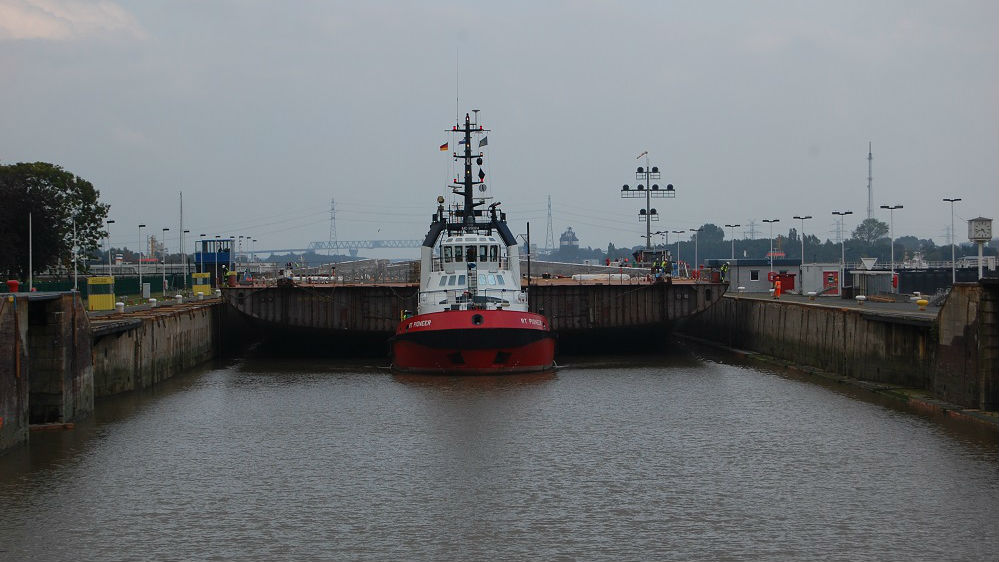 The first of AIDAnova's two floating engine room units reached Meyer Werft's shipyard in Papenburg on Saturday after clearing the Kiel Canal locks with just centimeters to spare.
The 117-meter-long (384-foot-long), 42 meter-wide (138-foot-wide) module is three decks high and carries AIDAnova's four Caterpillar dual-fuel engines.
The locks are also 40 meters wide, so the fender from one side needed to be removed to enable passage of the module.
Laser measurements were taken, and in complex simulations, Nautitec of Germany rehearsed the conveyance of the module from the Neptun Shipyard in Rostock. Together with maritime service provider Bremer Schiffsmeldedienst, highly accurate sea charts for the Kiel Canal locks in Kiel and Brunsbuettel were created so the hull could be safely maneuvered through the locks which were only a few centimeters wider. In cooperation with the Leer based company Lammers Schiffselektronik, a high-precision navigation system was installed on the hull, delivering precise positioning data in a centimeter range. Nautitec also prepared a risk assessment for different weather scenarios.
The transfer team consisting of Nautitec staff, pilots, Kotug tug boat masters and Kiel Canal Authority navigators. "We touched nothing, and it was a really great success, because everything worked accord to plan," said Georg Haase, Managing Director of Nautitec. "It worked because were a good team, but I am not the big guy here. I made the plan, but the tug drivers and the pilots, they do the big job."
Nautitec uses Transas simulators, and the project demonstrates the power of simulation, says Haase. "Everything was exactly as it was planned in the simulator."
The second AIDAnova module is currently under construction at the Neptun shipyard. The four-deck-high module will house the vessel's three LNG tanks and will most likely leave the Neptun Yard towards the end of November 2017.
Haase says the team's activities will be ongoing as Meyer Werft expects to need similar operations undertaken several times a year as a result of its cruise ship orders.
Images below copyright: Thomas Hauschildt.