Flettner Rotor Exceeds Expectations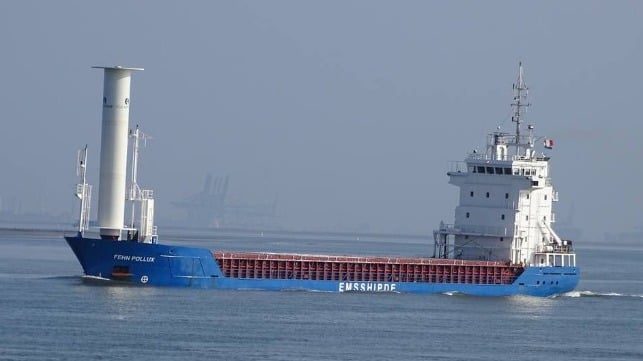 The performance of the EcoFlettner, which is being tested on the MV Fehn Pollux since July, has exceeded the expectations of the scientists monitoring it.
15 companies from around Leer, Germany, have been involved in the development and construction of the sailing system, a project funded by the E.U. and coordinated by Mariko. The rotor is 18 meters high and has a diameter of three meters. After test runs ashore, the rotor is now being tested under real conditions on board 90-meter multi-purpose vessel MV Fehn Pollux operated by Fehn Ship Management.
Flettner rotors use the wind to create additional thrust for ship propulsion: a Flettner rotor is a high cylinder that stands vertically on a ship and rotates on its own axis. It is driven by an electric motor. The optimum rotational speed depends on the wind speed and direction. The interaction between rotor surface and wind flow creates a lift force so that the ship receives additional thrust.
"The data we have evaluated so far significantly outmatch those of our model calculations," says Professor Michael Vahs, who has been researching the topic of wind propulsion for seagoing vessels at the University of Applied Science Emden / Leer for more than 15 years. "In perfect conditions, this prototype delivers more thrust than the main engine."
The University of Applied Sciences has developed a purpose-made measuring and control system which enables scientists to gather transparent and reliable performance data on over 50 parameters, collected continuously on board. A computer uses the data to calculate the optimum settings for the rotor.
"The longer the trial lasts and the more data we get, the more accurate the results will be," says Vahs. "But the data gathered so far allows us to say that the EcoFlettner saves a noticeable amount of fuel. We are also able to prove that for shipowners the investment in this sailing system is worth considering, because it pays off in a few years."
In a separate project, wind propulsion firm Norsepower installed two of its Rotor Sails aboard the LR2 tanker Maersk Pelican. At 30 meters tall by five meters wide, they are the largest units that Norsepower has ever built, and they are expected to reduce fuel consumption and associated emissions from the Pelican by about 7-10 percent. Lloyd's Register's Ship Performance team will collect data during a test phase and conduct an impartial third-party assessment.
The E.U. forecasts that there could be up to 10,700 wind propulsion installations on bulkers and tankers by 2030. Gavin Allwright, Secretary of the International Windship Association, says 2018 has been a very significant year for wind propulsion. "We could say that a perfect storm is brewing for the uptake of primary (wind etc.) and secondary renewable energy (alternative fuels/energy storage) in shipping. Policy, price, perception, providers and people are all starting to align."
Wind Propulsion Technologies break down into seven main categories:
• Soft Sail – both traditional sail and new designs of dynarig etc.
• Hard Sail – wingsails, foils etc. Some rigs have solar panels for added ancillary power generation.
• Flettner Rotor (Rotor Sail) – rotating cylinders operated by low power motors using the Magnus effect (difference in air pressure on different sides of a spinning object) to generate thrust
• Suction Wings (Ventifoil, Turbosail) – non-rotating wing with vents and internal fan (or other device) that use boundary layer suction for maximum effect.
• Kites – dynamic or passive kites off the bow of the vessel to assist propulsion or to generate a mixture of thrust and electrical energy.
• Turbines – using marine adapted wind turbines to either generate electrical energy or a combination of electrical energy and thrust.
• Hull Form – the redesign of ship's hulls to capture the power of the wind to generate thrust.