First Two SOVs for Chinese Offshore Wind Market Launched in Shanghai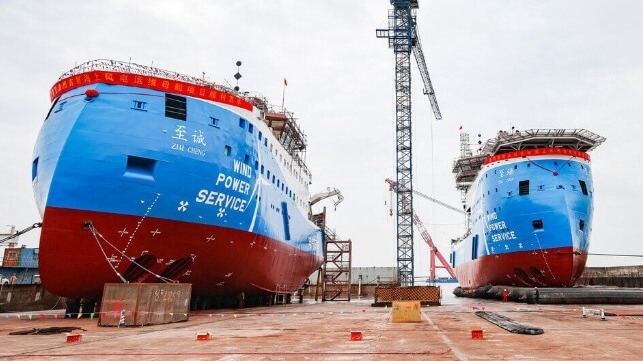 The first dedicated Service Operation Vessels (SOV) for China's domestic offshore wind industry were launched by the Zhenhua Heavy Industries (ZPMC shipyard) in Shanghai. The vessels were developed in a design partnership between Ulstein, Shanghai Electric, and ZPMC.
The ceremony was a dual launching for two vessels, each with a unique design both developed from Ulstein's CSOVs customized to the Chinese applications. They both include Ulstein's patented X-Box and X-Stern which is incorporated to improve sea handling capabilities. The designs were also optimized for operational capacity, capability, and economy. Both vessels also have batteries installed to enhance their green footprint.
Built in Shanghai, the vessels are based on Ulstein designs with the X-Bow and X-Stern (Ulstein)
The larger of the two vessels will accommodate up to 100 people. The second vessel is slightly smaller with a capacity of up to 60 people.
The design partnership began in 2021 with the cooperation between the organizations to develop the unique designs for the Chinese market. The order was confirmed early in 2022 with the first steel cut in April. The keel laying took place on November 20, 2023. Both vessels are due to enter service in 2024.
Ulstein highlights that they are two of a total of 10 SOVs the company has designed that are currently under construction. The designs have been customized for the individual owner/operators. Four of the CSOVs are being built in Turkey and those vessels will include a dual-fuel methanol power plant. Ulstein Verft is building another four CSOVs. Two have been ordered by Olympic Shipping and two by BS Offshore. The Olympic vessel will include energy storage systems and DC solutions.