First Steel Cut for Australia's Offshore Patrol Vessels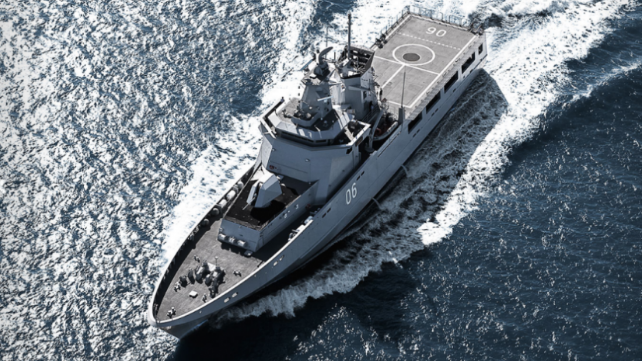 First steel was cut for the first of Australia's 12 offshore patrol vessels at Civmec's facility in Western Australia on Wednesday. The lead vessel is planned to planned to enter service in 2021.
The new vessels will have a displacement of 1,700 tons, length of 80 meters and speed of 22 knots. They will undertake maritime patrol and response duties, and will accommodate up to 60 personnel, including a crew of around 40 Navy personnel. Along with the ability to accept modular mission packs such as unmanned aerial systems, command and communication systems on board will allow the vessels to operate alongside Australian Border Force vessels, other Australian Defence Force units and other regional partners. They will replace Australia's current Armidale class and Cape class patrol boats, Huon class coastal minehunters and Leeuwin class survey ships.
The vessels will be built in Australia by German shipbuilder, Lürssen's subsidiary, Luerssen Australia partnering with Australian shipbuilder, Civmec in the joint venture, Australian Maritime Shipbuilding & Export Group (AMSEG). The vessels are based on the PV80 design, with the first two vessels to be built at ASC's Osborne shipyard in South Australia before production moves to Civmec's Henderson ship yard in Western Australia.
The contract with Lürssen to lead the design and build is worth at least A$3 billion ($2.1 billion) for the 12 vessels. The vessels will be delivered by Australian workers, in Australian shipyards using Australian steel. The project will create around 1,000 jobs - 400 direct and a further 600 in the supply chain.