Firefighting Continues Aboard Greek Ferry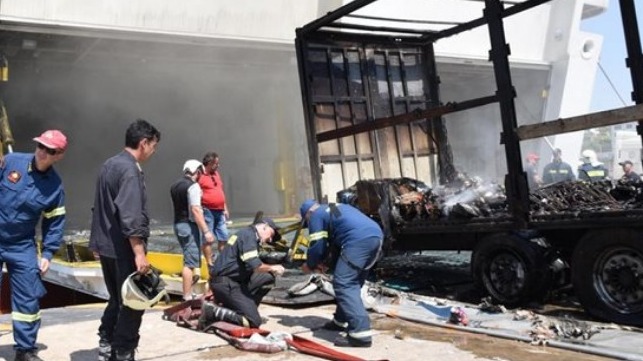 Firefighting efforts aboard the burned ferry Eleftherios Venizelos continued at a pier in Piraeus, Greece on Wednesday, and the first fire-damaged trucks have been extracted from her hold.
The fire, which broke out on her vehicle decks just after midnight Tuesday, forced the vessel to return to port at Piraeus to evacuate her passengers. All personnel were offloaded safely as the blaze continued, and no injuries were reported.
The fire has cooled in parts of the vehicle deck, but smoke and extreme heat within the compartment have complicated the response effort. The vessel took on a list of four to six degrees due to the water introduced by fire hoses, and the firefighting team has opened holes in the side of the ship to allow the wastewater to drain. Spill response vessels have placed a boom around the ferry and are collecting the used water for treatment.
"The Fire Brigade has done its best, I would say perfectly, its intervention and its work," said newly-appointed minister of shipping Fotis Kouvelis, speaking at the scene in Piraeus. "Many cars have left without any problems or significant damage. Perhaps some of the vehicles that are under the garage have been damaged or have some form of destruction. The important thing is that we did not have any losses, we had no injuries."
Outgoing minister of shipping Panagiotis Kourouplis was also present. At a change-of-command ceremony at the ministry's headquarters, he said that he wished his successor the best. I leave with the best memories of this Ministry because I believe that we have faithfully served the homeland and the interest of the Greek people. The Prime Minister has assigned me another post, in Parliament, at a time when there are very big concerns," Kourouplis said.
Port of refuge dispute
The Venizelos is moored at Piraeus' Cruise Terminal B, which is operated by Chinese state-owned conglomerate Cosco. Greek paper Protothema reports that there is a dispute between Greece's Maritime Ministry and the Cosco-managed Piraeus Port Authority over how long the damaged ferry can remain at the terminal. The PPA has reportedly asked the response team to remove the vessel and take her to an anchorage outside of the harbor, where she would not interfere with cruise ship operations. As of Thursday evening, the vessel remained in place at Terminal B.