Fincantieri Still Aims for an "Airbus of the Seas"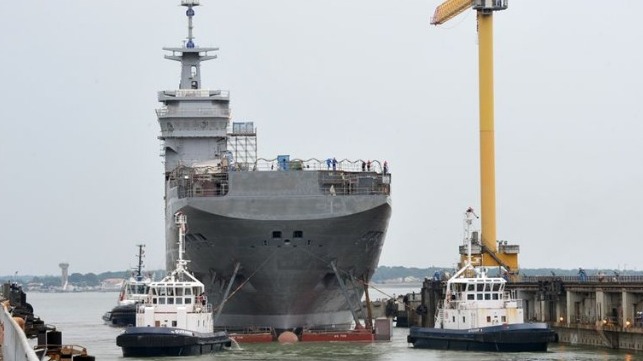 At a press conference Tuesday, Fincantieri CEO Guiseppe Bono expressed continued hope for the creation of what he has dubbed an "Airbus of the Seas" - a tie-up for naval shipbuilding with France's Naval Group. The two state-owned conglomerates are both top vendors in the defense sector, and Bono believes that combining their capabilities would help to counter larger American and Chinese competitors on the international market.
Fincantieri has already reached an agreement with the French government to take over the operations of STX France, the French shipyard once known (and now known once more) as Chantiers de l'Atlantique. It is among Europe's biggest cruise ship builders, but its capacity and its history as a defense shipbuilder also makes the yard an important strategic asset for France.
The current arrangement for STX France does not extend to French-Italian cooperation in the construction of warships. Fincantieri and Naval Group delivered plans for a joint defense contracting venture to their governments in June, according to the French Armed Forces Ministry. The proposal excludes submarines, and is said to cover a limited degree of cooperation on research, development and international bidding, not a full-scale merger.
However, the arrival of Italy's new nationalist government has created questions within France about the suitability of a deeper partnership. In particular, the Five Star government's pro-Italy focus has led to questions about whether joint warship projects would have enough room for the suppliers who currently fill separate Fincantieri and Naval Group contracts - especially large state-backed systems suppliers Thales and Leonardo.
In the broader political sphere, Franco-Italian relations have also been strained by a high-level dispute over the status if irregular migrants, which has become a personal fued between French president Emanuel Macron and Italian interior minister Matteo Salvini. Italy is also dangerously near to a banking crisis: Rome is battling with the European Commission over the right to enact a budget with a 2.4 percent deficit, despite its existing balance of $2.5 trillion and Brussels' demands for fiscal restraint. The fight sent Italian borrowing costs up sharply Monday and prompted losses on the Italian stock market. On Monday, Minister Salvini described the debate in martial terms, saying that Italy is "against the enemies of Europe — [EC President Jean Claude] Juncker and [European Commissioner for Economic and Financial Affairs Pierre] Moscovici — shut away in the Brussels bunker."