Fighting in Gaza Could Lead to Shipping Disruption in Strait of Hormuz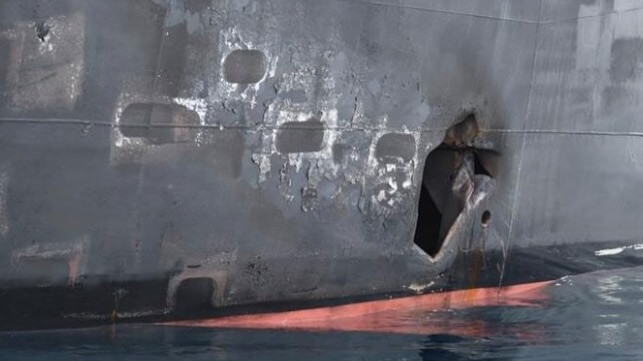 As suspicion grows of Iranian involvement in the planning of the terrorist attacks in Israel last weekend, analysts are turning their attention to the potential for the conflict to spread to the Persian Gulf and the Strait of Hormuz, the world's most important tanker transit chokepoint.
On Saturday, the Iran-backed Palestinian militant group Hamas launched a surprise attack against multiple Israeli towns along the fortified border with Gaza. Hamas fighters attacked Israeli soldiers and civilians alike, killing about 1,200 people in the initial assault.
Hamas receives support from Iran's Islamic Revolutionary Guard Corps (IRGC), and it coordinates with its sponsors in Tehran on major operations, according to defense analysts. Citing Hamas representatives, the Wall Street Journal reports that IRGC officers were present during some of the planning meetings for Saturday's attack, and that Iran gave a green light for the operation. The Journal's sources within Hamas suggested that Iran's foreign minister, Hossein Amir-Abdollahian, had personally attended two of these meetings.
The Biden administration has asserted that it believes Iranian leadership was surprised by the strike, and likely was not aware of the timing or the scope of the attack.
If Israel decides to take retaliatory action against Iranian forces or their proxy groups, Iran could move to restrict transits through the Strait of Hormuz for tankers with Israeli or American ties. The IRGC's naval division maintains a flotilla of small attack boats, which can harass, board and seize merchant ships - or damage them. Elevated risk could raise insurance rates or reduce the supply of tankers willing to make the journey; either would have an effect on the oil market.
"Any shipping affiliated with Israel is especially exposed," said Cormac Mc Garry, a maritime analyst with Control Risks, speaking to Foreign Policy. "Whatever pathway this takes, if Israel retaliates against Iran, and Iran attacks Israeli-affiliated shipping in the Strait of Hormuz, it will be more forceful than Iran's usual attacks on shipping in the strait."
Impacts on Israeli shipping
According to insurer Gard, the effects of the conflict on Israel's ports are limited, at least so far. The port of Ashkelon is officially closed, given its close proximity to Gaza, but Gard reports that the port authority is giving permission for vessels to berth and unload on a case-by-case basis. Nearby Port of Ashdod is open with restrictions, and it stands ready for business - except for certain dangerous goods cargoes. Explosives and toxic gases have been temporarily banned at the port.
Maersk Line has told customers that its cargo operations in the key hub ports of Ashdod and Haifa have not been substantially affected. Road and rail connections to port hinterlands were also moving smoothly.
Voyages to these ports have become much more expensive to insure, Reuters reports. War risk premiums have risen by a factor of 10, and now run as high as 0.2 percent of a ship's value.
One commercial operator is unlikely to be deterred by any obstacles. Israeli shipping line ZIM, which is part-owned by the government, has declared that its fleet is available to serve the national interest as required.
"The company ships will be, as a priority, directed to transfer cargo from anywhere in the world to Israel according to the requirements and needs of the Ministry of Defense and the Government of Israel," said ZIM CEO Eli Glickman in a statement. "ZIM will support the state of Israel in this difficult time and its first priority will be to allocate the needed resources to aid Israel in this hard and difficult situation."