Ferry Will Actually be Named Ferry McFerryface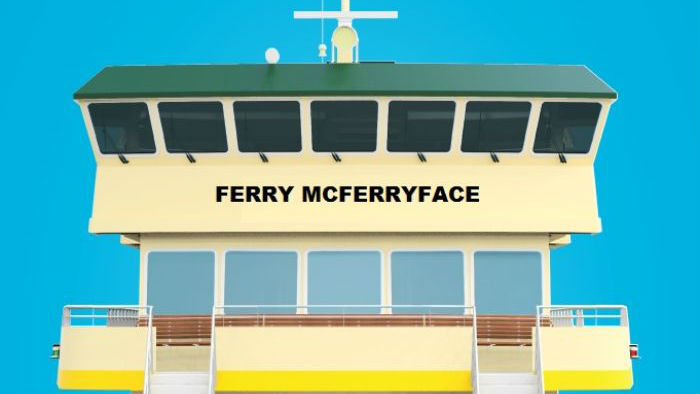 A new ferry in Sydney, Australia, will be named Ferry McFerryface.
A naming competition saw most voters actually choosing Boaty McBoatface, a name proposed for the U.K.'s new research vessel. However, the name was rejected for being unoriginal.
New South Wales state Minister for Transport and Infrastructure Andrew Constance is responsible for the decision. "Ferry McFerryface will be the harbor's newest icon, and I hope it brings a smile to the faces of visitors and locals alike. This one is for the kids."
More than 15,000 name suggestions were made, and voters have already named the other five of the six new ferries after well-regarded people: Victor Chang (heart surgeon), Fred Hollows (ophthalmologist), Catherine Hamlin (obstetrician) and indigenous leaders Pumulwuy and Bungaree. Clean Up Australia founder Ian Kiernan had apparently been told the last ferry would be named after him.
Some maritime staff have reportedly refused to work on the new ferry. Maritime Union of Australia spokesman Paul Garrett told local media he was furious. "The Transport Minister is demonstrating here that he treats public transport as a joke." It is a joke he believes will wear thin quickly, but for the time being Australians are getting the most out of the "joke" by suggesting more names, such as Chicken McNuggets and McFlurry.
An express train in Sweden has been named Trainy McTrainface, and a team at Sydney's Warwick Farm racecourse have named a horse Horsey McHorseface.