Ferry Carrying 60 Passengers Runs Aground in Orkney Islands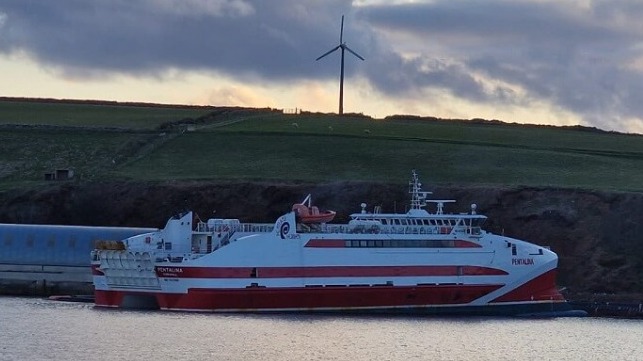 On Friday, a ferry sustained an engine room fire and went aground on South Ronaldsay, the southernmost of Scotland's Orkney Islands.
On Saturday evening, the ferry Pentalina was under way on a short crossing from Gills Bay to the village of St. Margaret's Hope. As she approached her destination, smoke was detected in the engine room, according to operator Pentland Ferries. Soon after, the vessel ran aground.
60 passengers - including three children and one infant - were safely evacuated by the RNLI Longhope lifeboat at about 1945 hours. No injuries were reported, and the operation went smoothly, according to the RNLI.
"I am really proud of the crew for their rapid response and the care and professionalism they displayed during this rescue. The crew of the Pentalina also handled the situation extremely well," said RNLI coxswain Scott Johnston.
The crew extinguished the engine room fire, according to the Maritime and Coastguard Agency. Pentland Ferries confirmed that the vessel also sustained a "minor ingress of water."
"While the facts haven't been established yet, initial reports from the operator point to the cause of the grounding being a sudden mechanical failure," UK MCA said in a statement.
Pentalina was successfully refloated on Sunday morning and brought to her pier in St. Margaret's Hope. She will undergo a series of inspections to determine the root cause of the mechanical casualty.
Pentalina has been largely inactive for several years, and she only just returned to service last week after undergoing a yard period. She passed all inspection requirements before she reentered operations, according to the UK MCA.
The ferry was recalled to service in order to fill in for another vessel, the MV Alfred, which had been chartered to another ferry operator. It is not known whether it will be possible to bring the Alfred back to Orkney on a rapid timetable.
"The Pentalina was only summoned back into action this week because the MV Alfred had to be seconded from Pentland Ferries to help plug gaps in the aging, unreliable CalMac fleet," said opposition Scottish Conservatives MSP Jamie Halcro Johnston in a statement. "While it will be important to know just how this incident came about, my immediate concern is for what this means for Orkney and how long this vital link for our islands will be severed."