Ferry Capsizes on Lake Victoria, Killing Over 130 Passengers
The death toll from the sinking of a ferry in Tanzania continued to rise Friday, reaching a confirmed total of more than 130 victims. 80 survivors have been rescued, but dozens of people remain missing and the toll is expected to climb.
On Thursday, the government-run ferry MV Nyerere capsized as it was approaching a dock at Ukara Island in Lake Victoria. Thursday was a market day on the island, with high traffic. The Nyerere had a rated capacity of about 100 people, but it was carrying as many as 400, and authorities have not had access to an accurate passenger manifest. Overloading is relatively common on Tanzania's ferries, and has contributed to fatal accidents in the past. The worst in recent memory, the 1996 capsize of the ferry Bukoba, claimed the lives of more than 800 people.
The president of Tanzania, John Magufuli, has ordered police to arrest the Nyerere's master. In a national address Friday evening, Magufuli said that the captain was not on board at the time of the accident, and the ferry was under the command of an untrained individual. In addition, he asserted that the vessel was overloaded with "tonnes of maize, crates of beer, building materials" and large pieces of luggage, as the passengers were headed to market.
Magufuli reported that more bodies remain trapped inside the capsized hull, and that the death toll will rise.
"[The response has] been a bit difficult because of the fact that the ferry overturned with people and luggage," Transport Minister Isack Kamwele told CNN. "We have to remove the luggage first to get to the bodies."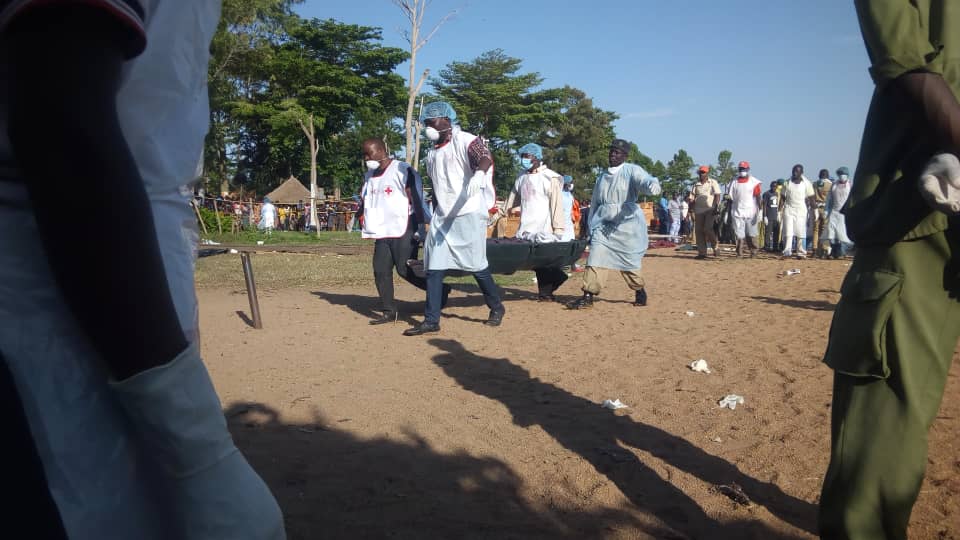 Volunteers with the Tanzania Red Cross carry the body of a victim (TRC)