Facing Shortfall, U.S. Navy Orders Recruiters to Work Six Days a Week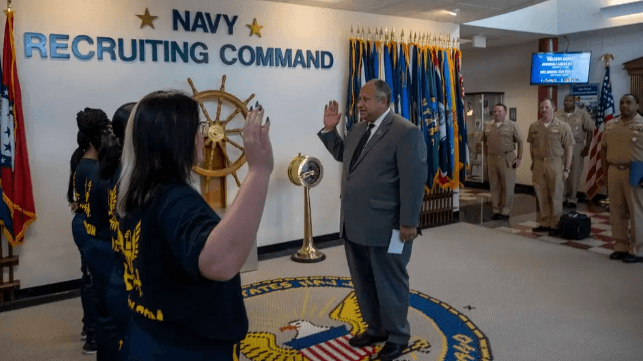 Facing predictions of a dire recruiting shortfall, the U.S. Navy has informed its recruiters that they will now work six days a week.
This may sound drastic, but the manpower situation is serious, according to Navy leadership. Adm. Lisa Franchetti, vice chief of naval operations, testified in April that the service is on track to undershoot its recruitment target by 6,000 sailors (about 15 percent). A shortfall could contribute to difficulties with "fit and fill" aboard warships, with too few sailors joining and too much work for those who remain. Manning shortfalls played a role in the disastrous collisions involving USS Fitzgerald and USS John S. McCain in 2017.
Navy recruiters are at the front line of the effort to bring in enough personnel, and they have a challenging mission. In addition to competing with all of the other armed forces for talent, they also have to contend with a tight civilian job market, which offers good wages and abundant opportunities.
The Navy has given its recruiting staff a new set of incentives to offer, like a $35,000 bonus for shipping out quickly, but the structural difficulties are harder to fix. Few young Americans wish to serve, and even fewer are eligible: past criminal records, physical fitness limitations, low test scores and other factors reduce the size of the applicant pool. Only 23 percent of Americans aged 17-24 meet the criteria for service, according to the Pentagon.
The Navy has attempted to broaden that pool by reducing its testing standards, raising the maximum recruitment age, adding a coaching program to help low-performing recruits, and setting up a pre-boot camp fitness regimen for those who do not meet weight requirements.
These tools may help, but the heavy lifting comes down to the Navy's 4,000-strong force of recruiters, and they will now have to work harder for longer. At the unit level, it is not unusual for recruiters to pull long hours to meet their numbers, but Navy Recruiting Command has confirmed that it is now setting a six-day workweek as a minimum standard across the service.
According to Military.com, there are also signs that the pool of recruiters will be augmented soon. The Navy is said to be looking at the possibility of transferring new recruiters into their duty stations six months early and delaying the exit of current recruiters by a year.