ExxonMobil Brings Third FPSO Online off Guyana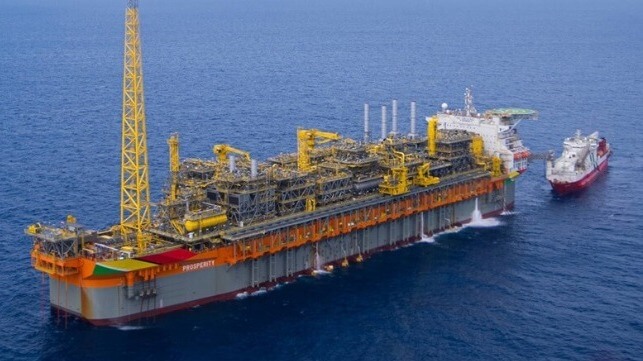 ExxonMobil has reached a mile marker in its plans to create an oil industry from scratch off the coast of Guyana. Exxon has drilled more than 30 promising wells in its prolific Stabroek Block lease area, and this week it started up production on the third of its six planned FPSOs, Prosperity
The Prosperity FPSO saw its first oil production on November 14, according to owner SBM. It will add 220,000 barrels of oil per day to national production by next year, bringing total capacity off Guyana to about 600,000 barrels per day, all of it Exxon-operated. By 2027, Exxon intends to double that to six FPSOs and 1.2 million barrels per day.
The fourth and fifth FPSOs, Yellowtail and Uaru, are under construction. Each is designed to handle 250,000 bpd of production, and Exxon is in talks with the government of Guyana on regulatory approval for the sixth project, Whiptail.
"Each new project supports economic development and access to resources that will benefit Guyanese communities while also helping to meet the world's energy demand," said Liam Mallon, president of ExxonMobil Upstream Company.
Exxon says that its Guyana operations have a greenhouse gas intensity about 30 percent lower than that of its upstream portfolio average, and lower than 75 percent of all oil and gas assets worldwide. A persistent gas flaring issue on the first FPSO, Liza Destiny, has been resolved with the installation of new compressor equipment.
American oil company Hess is a partner with ExxonMobil in the Stabroek Block developments. Last month, Chevron said that it plans to purchase Hess for $53 billion, along with Hess' 30 percent stake in the Guyana projects, subject to regulatory approval.
Exxon estimates that the gross recoverable resource in the Stabroek Block comes to about 11 billion oil equivalent barrels, and that production will eventually exceed one million barrels per day. If sustained at current Brent pricing, this is equivalent to about $30 billion per year in revenue. Exxon's operating interest amounts to 45 percent.