Explosion, Foul Weather Hamper Efforts to Fight Tanker Fire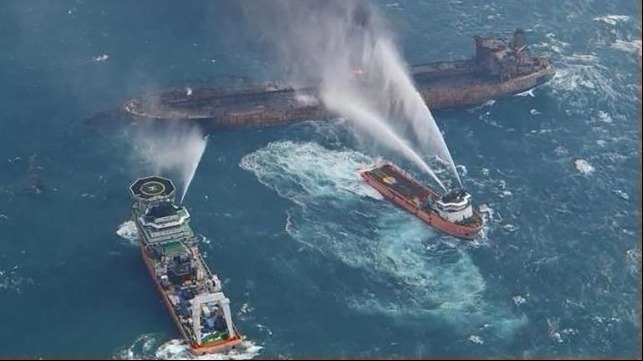 The blaze on the Iranian oil tanker Sanchi continues to burn four days after she collided with the bulker CF Crystal and caught fire. On Wednesday afternoon, an explosion near Sanchi's bow forced response vessels to temporarily retreat from their positions, a further setback to efforts to extinguish the fire and locate 31 missing crewmembers. According to the Chinese Ministry of Transport, the rescue crews had been applying firefighting foam at the time of the explosion. The extent of any damage to the Sanchi from the blast is not yet known.
Poor weather has also complicated the response effort. Forecasts for Wednesday showed winds of 25-30 knots in the East China Sea search area, with waves of 10-15 feet.
In a statement carried by an Iranian state news outlet, the vessel's operator said that rescue teams will enter the tanker as soon as the fire is brought under control. Captain Mohsen Bahrami, spokesman for the National Iranian Tanker Company, said two fireboats are fighting the fire and that a number of other fireboats will join the operation soon. "Saving the missing tanker crew is NITC's first priority for the time being and all the available equipment inside or outside of Iran have been mobilized to find them," he said.
In comments to the AP, Bahrami was optimistic that some of the crewmembers would be rescued alive. "The engine room is not directly affected by the fire and is about 14 meters under water," he said. "There is still hope."
Sanchi had about one million barrels of condensate on board, and authorities are uncertain how much of her cargo may have been released into the environment. Condensate - also known as "natural gasoline" or "drip gas" - is a low-density mixture of petroleum liquids that are extracted from "wet" natural gas. It is lighter than water, and many of its components will evaporate at normal temperatures; it is highly volatile and flammable.
South Korea's Ministry of Oceans and Fisheries told Reuters on Wednesday that it is primarily concerned about the pollution threat from the Sanchi's bunker fuel, a much heavier and more persistent substance than her condensate cargo. The vessel is listing, and if she should go down, a portion of her bunkers could be released into the marine environment.
The two vessels collided about 160 nm off Shanghai on Saturday night while Sanchi was under way for Daesan, South Korea. The CF Crystal escaped without critical damage, and her AIS signal showed that as of Wednesday she was berthed west of Zhoushan, China. Earlier in the week, Chinese officials said that she would be headed into port for an investigation into the cause of the incident.